A College Student's Guide to Spring Break Fun
Spring break is that glorious time of year when you can put down your textbooks and pick up a piña colada. It's a chance to ditch the lecture halls for some sunshine and adventure. And what better place to let loose and soak up the sun than Miami, Florida! We're going to show you how to road-trip from Philly to Miami like a pro without breaking the bank. Here's how renting a 15 passenger van from Greenvans will make your epic spring road trip possible.
Why Renting a 15 Passenger Van is a Must for a College Road Trip
When it comes to planning a college road trip, don't settle for anything less than the best ride. Here are some reasons why renting a 15 passenger van from Greenvans is a must:
Goals: A 15 passenger van rental is the ultimate ride for any group of friends looking to make some unforgettable memories. With plenty of room for your crew, you'll be able to have a rolling party and bond.
Gear: When planning a college road trip, you need to bring along all the essentials, from clothes to surfboards to beer pong tables. If you're thinking about renting a 15 passenger van, you won't have to worry about leaving anything behind. There's plenty of storage space for all your gear and then some. With all four rows of seats left in the van, you'll have seating for 15 people. Greenvans can remove the back row of seats for you to create cargo space for luggage and convert the vehicle into an 11 passenger van rental.
Keep it Budget-Friendly: College students are always on a budget, but that doesn't mean you have to skimp on style. Renting a 15 passenger van is a cost effective way to travel, and it's much more affordable when split between your crew.
Adventure-Ready: Whether you're exploring national parks, hitting the beach, or going off-road, renting a 15 passenger van is the perfect ride for adventure seeking college students. You'll have the space and the durability you need to take on any challenge.

Renting a 15 Passenger Van and Planning Your Route
Remember, how you get there is as important as where you're going, so don't just hop on the highway and call it a day. Take the scenic route and enjoy the ride. Here are a few quick tips to get you rolling
Choose a route that offers some killer views, like the Blue Ridge Parkway or the Appalachian Trail.

Plot out rest stops ahead of time so you can take a break and grab a snack. No one wants a hangry driver behind the wheel.

Avoid peak travel times, like holidays or weekends, to steer clear of the crowds.

Travel can be stressful. Renting a 15 passenger van can be stressful. But not with Greenvans. Our goal is to make your travel experience as easy and stress free as we possibly can!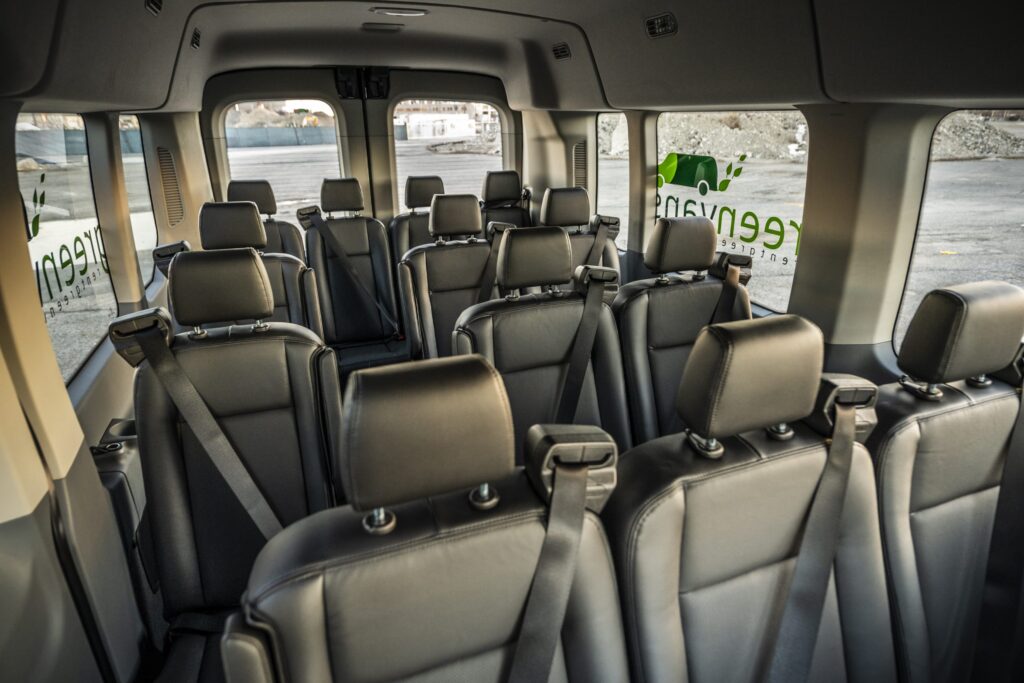 What to Do in Miami
Miami is a playground for the young and free, with endless activities to fill your days and nights. Here are some of our top picks:
Hit the Beaches: Miami's beaches are world-renowned for their crystal clear waters and silky white sand. Check out South Beach, Miami Beach, or Crandon Park Beach for some prime sunbathing and beach volleyball.

Visit the Art Deco District: Miami's Art Deco District is a photographer's dream, with its pastel-colored buildings and geometric shapes. Snap some pics and enjoy the retro vibes.

Check out the Museums: Miami's museums are no joke. The Pérez Art Museum Miami, the Vizcaya Museum and Gardens, and the Phillip and Patricia Frost Museum of Science are just a few of the must-sees.

Explore Little Havana: For a taste of Cuban culture and cuisine, head to Little Havana. Get lost in the colorful streets and try some authentic Cuban dishes.

One of the best parts about renting a 15 passenger van for your trip down to Miami is that you'll have a large vehicle with you at all times. That means you don't need to rent multiple cars when you get there, it means no splitting up in different Ubers or Lyfts, and it means your group gets to spend more time together doing the things you want to do.
Where to Eat
One of the best parts of traveling is trying out new foods. Miami has some killer eats that you can't miss:
Versailles Restaurant: This iconic Cuban spot has been around since 1971 and is the perfect place to sample some classic Cuban cuisine, like ropa vieja and flan.

La Sandwicherie: For a quick and delicious bite, check out this French-inspired sandwich shop. Try the Le Croque Monsieur or create your own sandwich masterpiece.

Joe's Stone Crab: If you're feeling fancy, head to Joe's Stone Crab for some of the freshest seafood in Miami. Don't miss out on the stone crab claws – they're a seasonal delicacy.

El Rey de las Fritas: For a budget-friendly bite, hit up this Cuban fast food joint. The fritas – burgers topped with crispy potato sticks – are a must-try.
Where to Stay: Miami has a variety of lodging options to suit every style and budget:
Freehand Miami: This hip hostel is perfect for the social butterfly. Stay in a shared or private room and take advantage of the pool, bar, and courtyard to meet new people and have some fun.

The Standard Miami: For the ultimate in luxury, check out The Standard Miami. Located on Belle Isle, this hotel features a full-service spa, hammam, and waterfront restaurant.

The Miami Beach Edition: This beachfront resort is perfect for those who want to stay in style. Take a dip in one of the multiple pools, hit the bowling alley, or dance the night away in the on-site nightclub.

Don't forget: when you're renting a 15 passenger van from Greenvans, you're getting a Ford Transit Medium Roof 15 Passenger van. That means that the roof height of your van is 9 feet. Keep that in mind when picking your hotel or Airbnb. Our vans do not fit in most parking garages and you're always best if you can find open air outdoor parking for your van.

Renting a 15 Passenger Van and Traveling Together Might Be What You Need
Miami is the perfect destination for college students looking to let loose and make some memories. With its beautiful beaches, vibrant culture, and delicious cuisine, there's something for everyone in this sunny city.
With the right planning and a little bit of adventure, you can make your road trip to Miami a trip of a lifetime. So grab your friends, get on with renting a 15 passenger van, and hit the road for a spring break you'll never forget!
Contact Greenvans for all your van rental needs!