What size passenger van rental is right for you?
If you're planning a much needed family vacation for this summer, you're likely struggling to coordinate a lot of details to get yourself and 10 or so fellow travelers out to the Philadelphia area for July 4th weekend. 

One of the items on your checklist is figuring out how you're going to get such a large group of people around together in a way that doesn't add stress to what should be a fun and effortless family trip.

Your group is too big to fit in a minivan and you don't want to split up into multiple cars. You've likely looked into renting a 12 or 15 passenger van, but you're nervous because you don't know much about that type of vehicle. There's a lot riding on your ability to make the right decision and of course, you want to come off looking like the master planner that you are.

Here's a quick primer on what you need to know when you're searching for the right passenger van for your group. 
The Basics
We get lots of phone calls from people who are looking to rent a passenger van for the first time, so you're not alone on this one!
Most who find their way to Greenvans have searched for an 8, 10, 12, or 15 passenger van, but they've gotten lost in how many different options exist. 
It can be a daunting and overwhelming task to figure out which van is right for you and your family. The easiest thing you can do for yourself to make that choice as simple as possible is ask these two questions:
How many seats are there in the van?

How much cargo/luggage space will I have?
Ford Transit 15 passenger van rental vs Ford Transit 12 Passenger van rental

The two most common passenger van sizes you'll encounter are the 15 passenger van and the 12 passenger van.

The only difference between these two types of vans is the number of seats and how those seats are configured.

Both "size" vans are built on the exact same chassis. They are the same length and the same vehicle. Everything is identical except for the rear seats.
A 15 seater van has four rows of seats behind the driver and passenger front seats.

A 12 seater van has three rows of seats behind the front passenger and driver seats.
Quick note: The passenger count for each type of van includes the driver. So a 15 passenger van has 15 total seat belts, including the driver. There's no such thing as a 16 passenger van.

 
How much luggage space is there in a 15 passenger van?
There is limited cargo space in a 15-passenger van when all of the rows of seats are in.


The fourth row of seating runs all the way to the rear doors which means there is no space for luggage in the back.
A 12-passenger van, on the other hand, has a large cargo area between the third row of seats and the rear doors – about 3.5 feet of extra space.

Greenvans only carries 15 seater vans in our rental fleet. However, if you need extra cargo space in addition to seats for all of your passengers, we'll remove the back row of seats for you (at no extra charge, of course). This will create a 3' x 5.6' x 5.5' cargo area in the back of the van. 
If you need even MORE space, we can remove the back two rows of seats, turning the vehicle into an 8 passenger van. This is a great setup that's most common for touring bands, production companies, camping trips, or any type of trip that requires more cargo space than any other passenger vehicle rental will allow for.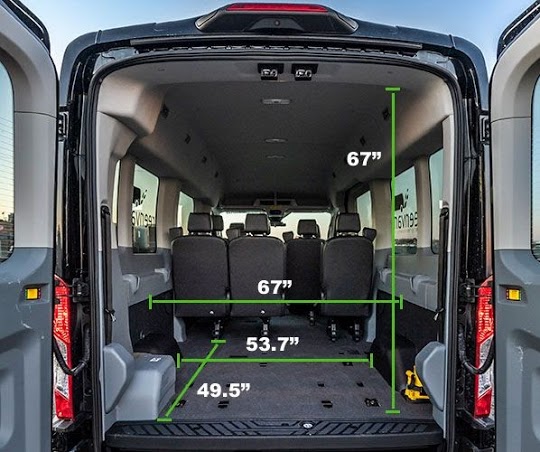 Don't just pick the cheap van rental, pick the right one
If you're looking for the least expensive or the cheapest van rental you can find and that's the reason why you're searching for a 12 rather than a 15 passenger van, just keep in mind that they're the same vehicle, and most of the time, similar in price. 
If you have a specific budget you're working with we'll always do our best to make our pricing work! Please contact us here for a quote or to see what we can do to help you make your trip happen as comfortably as possible.
---
Rent a 15-passenger van to make every mile of the journey something to remember.