If you live in the Richmond, Virginia area and you're itching to explore, head to our newest Greenvans location to find the best van rentals for road trips in Richmond. Pack both your dancing and hiking shoes, because you're headed west to the land of music, not without a stop or two in the beautiful Blue Ridge Mountains!
Where do you pick up your 15 Passenger Van Rental in Richmond?
Our newest Greenvans office is right here in Richmond, Virginia. Located at 3015 Lafayette Ave. Richmond, VA 23228
Give us a call! We love hearing about the trips our customers are planning using our van rentals, and we'd love to help make your planning experience easier and better! 833 – 640 – 8267
Got your van rental for your road trip sorted? Here's where to go!
Richmond – Hanging Rock State Park
Approximate driving time: 4 hours
Bring your hiking boots and start this trip with a dive into the awe inspiring nature that North Carolina boasts. If you enjoy camping in the wilderness, check out the park's website for overnight instructions.
Hanging Rock State Park – Asheville, NC
Approximate driving time: 3+ hoursIt's essential that you hop on the Blue Ridge Parkway toward Asheville. It's stunningly scenic and while mobile service isn't 100% reliable, this handy app is!
Consider bringing a packed lunch and stopping for a panoramic picnic. The city of Asheville is brimming with excellent food, a fantastic downtown, a tour of the Biltmore and lots of music. Swing by the River Arts District and check out the city's vibrant beer scene.
Since you can fit everybody in your group in a big van rental from Richmond, it might be a whole lot easier to get back to your hotel after a day checking out the Asheville beer scene if you have one designated driver and the whole group together. Just one of the many small conveniences of renting a 15 passenger van for your group!
Asheville, NC – Knoxville, TN
Approximate driving time: 2 hours
Let Knoxville surprise you. Often ignored for the popularity of its bigger siblings (which we also included on this list), Knoxville has an undeniable charm that shouldn't be passed over. It offers everything from ziplining to museums. Check out the historic homes and the riverboat tour.
Knoxville, TN – Nashville, TN
Approximate driving time: 3 hours
Country music lovers will absolutely rejoice in the sounds of Nashville. For serious country lovers, we suggest driving straight through to Memphis from Knoxville (5 hours) and hitting Nashville on the way back as your final stop.
Either way, you're sure to love the lively atmosphere and endless list of things to do. Museums, shows, sports, food…no shortage of entertainment in one of Conde Nast Traveler Magazine's 10 Friendliest Cities in the US.
Nashville, TN – Memphis, TN
Approximate driving time: 3 hours
It's the writer's personal opinion that Memphis is the actual crown jewel of Tennessee. Memphis is just cool. It's got great architecture, a ton of beautiful blues music on Beale Street, and stories of a deep-rooted American history. You've got Graceland, Stax Music, loads of quirky museums and mouth watering barbecue.
You even have the option to tour the city in a Cinderella carriage. Memphis completely blew my mind, and I hope the same for you!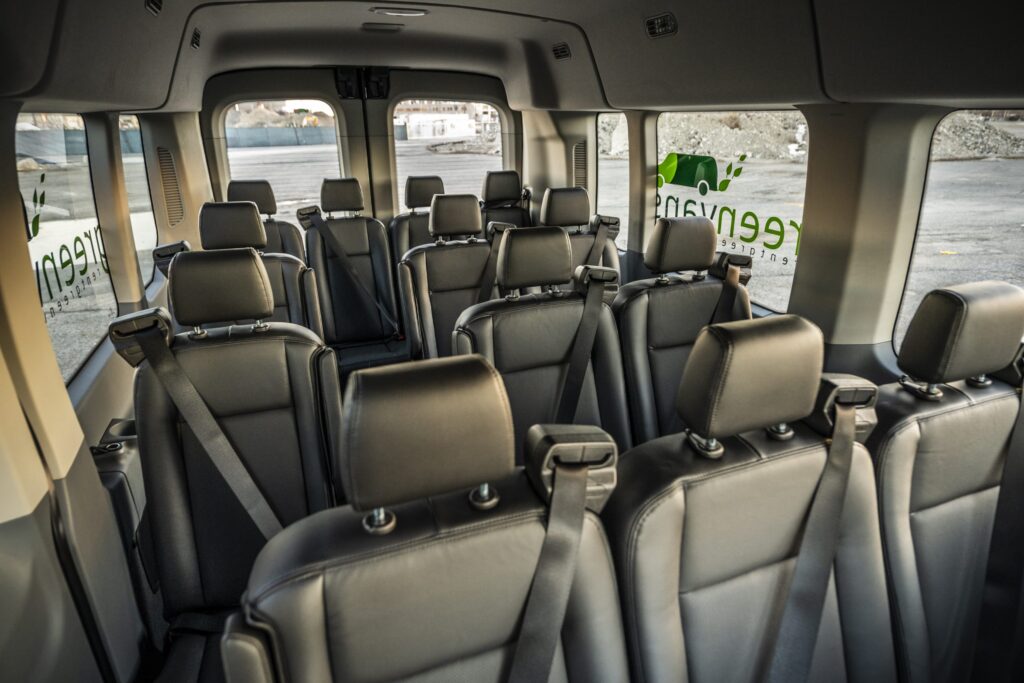 Why find your van rentals for road trips in Richmond with a Greenvans 15 Passenger Van?
Music: You're on a musical road trip! Together you can create the ultimate country/blues/rock playlist and add to it as you drive along from place to place. It's more fun to listen together, which is easier when you're driving a 15 passenger van instead of a caravan of cars.
People: You have space to invite friends and extended family. The more, the merrier, no?

Variety: There is plenty of space in your rental passenger van to fit both camping gear AND elegant dinner outfits. Giving you the chance to diversify your destinations and stop in locations you may otherwise pass over.

Ease: Renting a passenger van from Greenvans is easy. The staff are with you every step of the way, so if you have questions or concerns while on the road, all it takes is a phone call to find answers.

Connection: It's better together. Traveling from point A to point B is the perfect time to talk, play games, and make memories. You might find that upon reflection of your road trip, the highlights took place inside your 15 passenger rental van from Greenvans in Richmond!
---