Philly to the Smokies: A Family Road Trip Adventure in a 15 Passenger Van.
Are you tired of the same old beach vacations with your family? Do you want to create unforgettable memories and explore nature with your loved ones? Then hop on board with us and we'll take you on a thrilling family road trip from Philadelphia to the Great Smoky Mountains, with a Smoky Mountains itinerary! What's the best way to travel to the smoky mountains from Philadelphia, you ask? We'll show you how a 15-passenger van rental from Greenvans in Philadelphia is the best way to do a family road trip!
As a family travel enthusiast, I always look for new and exciting ways to travel with my loved ones. So last year, I decided to rent a 15 passenger van in Philly and hit the road for an adventure-packed journey to the Smokies.
So, if you're up for a family vacation full of breathtaking scenery, outdoor activities, and quality time with your loved ones, buckle up and let's hit the road.
Renting a 15 Passenger Van in Philadelphia from Greenvans
Before we dive into the journey, let's talk about the logistics of renting a 15 passenger van. Here are some helpful tips and tricks to ensure a smooth and stress-free rental process:
Reserve your 15 passenger van early! The best times to visit the national parks are also the busiest times for van rental companies. Make your reservation early so there are still vans left.

Check the rental company's policies and requirements, such as age restrictions and insurance coverage.

Inspect the van thoroughly before accepting it, and report any damages or issues to the rental company.

Familiarize yourself with the van's features and safety guidelines, such as seatbelts and child safety seat requirements. The new Ford Transit vans drive like a dream and are incredibly safe. But they're still large vehicles so be prepared.
With these tips in mind, we were ready to embark on our family road trip adventure in our trusty 15 passenger van!

Day 1: Philly to Shenandoah National Park
Our journey started early in the morning as we packed up our van and hit the road. Our first destination was Shenandoah National Park in Virginia's Blue Ridge Mountains. The drive from Philly to Shenandoah was about 4 hours, but it was worth every minute.
Driving through the scenic countryside, we enjoyed some fun car games, snacks, and family sing-alongs. The kids were thrilled to see the colorful leaves, rolling hills, and farm animals along the way.
Once we arrived at Shenandoah National Park, we were blown away by its beauty. The park features over 500 miles of hiking trails, cascading waterfalls, and breathtaking views of the mountains. We decided to take a short hike to Dark Hollow Falls, a stunning waterfall cascading 70 feet into a serene pool. The hike was easy and family-friendly, and the kids had a blast splashing in the cool water.
After our hike, we drove along the scenic Skyline Drive, which offers panoramic views of the Shenandoah Valley. We stopped at several overlooks and enjoyed a picnic lunch while taking in the stunning vistas.
As the sun set, we checked into our cozy cabin at the park's Big Meadows Lodge. The cabin featured rustic charm, comfortable beds, and a fireplace that kept us warm throughout the night. We cooked a simple dinner in our cabin's kitchenette and enjoyed some family bonding time around the campfire.
Day 2: Shenandoah to Great Smoky Mountains
The next morning, we woke up early and hit the road again. Our destination was the Great Smoky Mountains National Park, located in Tennessee and North Carolina. The drive from Shenandoah to the Smokies was about 6 hours, but we broke it up with several rest stops and sightseeing detours.
One of our favorite stops was the Natural Bridge State Park in Virginia. The park features a stunning natural rock bridge that spans over 215 feet, as well as several hiking trails and picnic areas. We hiked to the bridge and marveled at its beauty before continuing our journey.
As we crossed into Tennessee, we stopped at several charming small towns, such as Gatlinburg and Pigeon Forge, which offer family-friendly attractions like Dollywood and Ripley's Aquarium. We also stopped at a local farmer's market to stock up on fresh produce and snacks for our camping adventure in the Smokies.
Finally, we arrived at the Great Smoky Mountains National Park, and it was like stepping into a postcard. The park features over 800 square miles of pristine wilderness, ancient forests, and wildlife. We set up our camping gear at one of the park's family-friendly campgrounds and headed out for a hike.
We chose the Chimney Tops Trail, which offers a moderate 4-mile roundtrip hike and stunning views of the mountains. The hike was challenging at times, but the kids loved scrambling over the rocks and crossing the stream. At the top, we were rewarded with panoramic views of the park's peaks and valleys.
As we hiked back to our campsite, we spotted several deer and even a black bear in the distance. The kids were thrilled to see the wildlife up close and learn about their habitats and behaviors.
That night, we cooked a delicious dinner over the campfire and shared stories and s'mores under the stars. The sound of the nearby stream and the scent of pine trees made for a peaceful and rejuvenating night's sleep.
If you're going to travel to the great Smoky mountains from Philadelphia, a 15 passenger van rental from Greenvans is the best way to do it, hands down.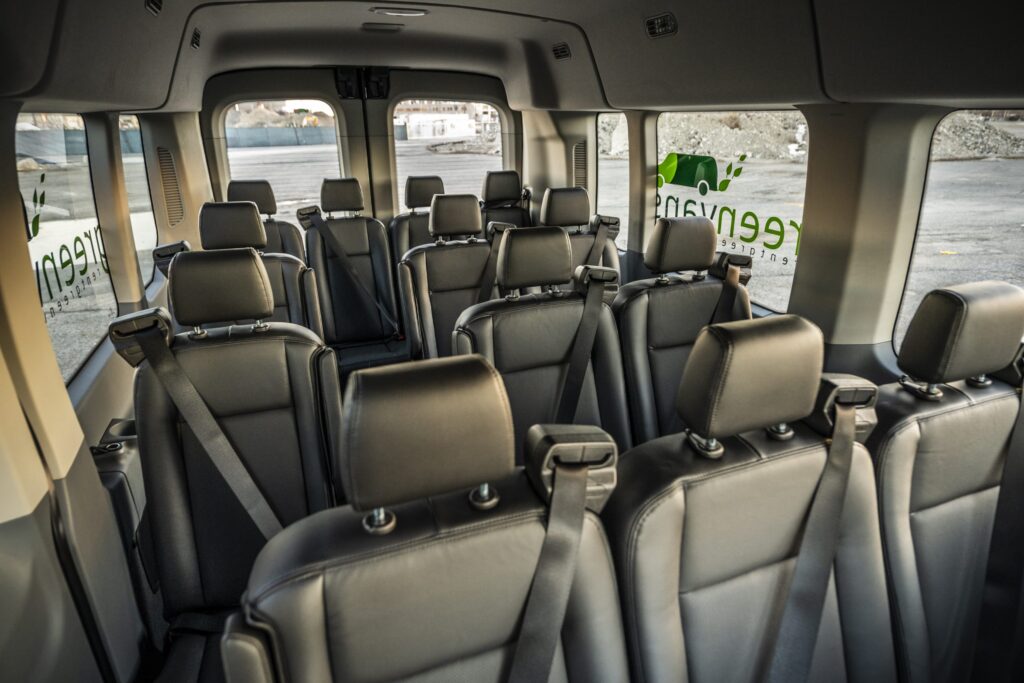 Day 3: Exploring the Great Smoky Mountains
We woke up to the sound of birds chirping and the smell of fresh coffee. This is the best way to travel to the Smoky Mountains from Philadelphia, I thought.

We spent the day exploring more of the Great Smoky Mountains National Park and its many attractions. Here are some of our highlights:
Cades Cove: This historic valley features preserved cabins, churches, and grist mills from the 1800s, as well as stunning views of the surrounding mountains. We enjoyed a scenic drive through the valley and spotted several wild turkeys and deer along the way.
Clingmans Dome: This iconic observation tower offers a 360-degree view of the park's peaks and valleys. The tower is accessed by a steep half-mile hike, but the views are worth it.
Waterfalls: The park features several stunning waterfalls, such as Laurel Falls and Abrams Falls. We hiked to Abrams Falls, which offers a beautiful 5-mile roundtrip hike and a picturesque waterfall that plunges into a serene pool.
As the day came to a close, we headed back to our campsite for some more family time around the campfire. We reflected on our journey and how much we had grown closer as a family. We also made plans for our next family road trip adventure!
The Best Way to Travel to the Smoky Mountains From Philadelphia
If you're looking for a family vacation that is full of adventure, nature, and quality time with your loved ones, then a road trip from Philly to the Great Smoky Mountains is the perfect choice. Renting a 15 passenger van allows you to travel comfortably and safely with your large family, and the destinations along the way offer a wealth of outdoor activities, stunning scenery, and family-friendly attractions.
So, what are you waiting for? Contact us today for all your 15 passenger van needs and start planning your family road trip adventure today! It's time to make memories that will last a lifetime! Don't forget to share your travel experiences and tips in the comments below. Happy travels!