Unleash Your Inner Adventurer On A Mountain Biking Trip from Richmond, VA
Are you and your friends looking for an excuse to rent a van in Richmond and take a road trip? Look no further than a mountain biking odyssey to Pisgah National Forest in North Carolina.
A passenger van rental from Greenvans will fit your entire group and transport your bikes. This journey promises adrenaline-pumping excitement, breathtaking scenery, and lasting memories. 
Plan and Prepare for Your Mountain Biking Adventure
Before starting your adventure, research the trails and activities available at Pisgah National Forest. Identify the best options for your group's interests and abilities. Make sure to pack essential mountain biking gear such as helmets, gloves, padded shorts, and sturdy footwear. Bring along first aid supplies, camping equipment, and plenty of food and water to keep your group energized and hydrated throughout your adventure.
And of course don't forget to rent a van Richmond from Greenvans! We have a fleet of brand new 2023 15 passenger Ford Medium Roof Transit vans ready for you. We can remove the back two rows of seats to make room for your friends and all of your gear.

While Greenvans only carries 15 passenger vans, we can configure them as 11 passenger vans or 8 passenger rental vans in Richmond to best suit your groups needs.
Make your van rental reservation early to take advantage of early booking summer deals.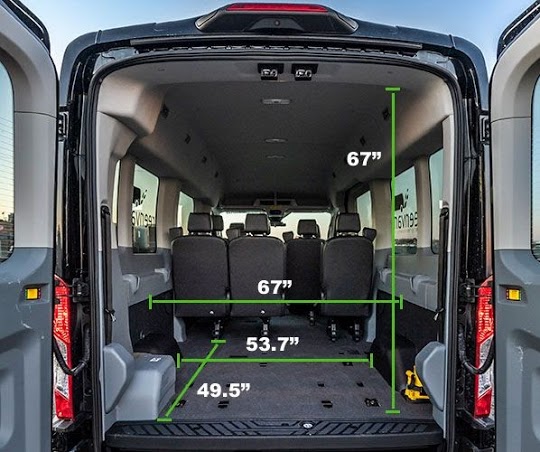 Rent A Van In Richmond Then Immerse Yourself in the Thrills of Pisgah National Forest's Trails
As you and your friends make the drive from Richmond to Pisgah National Forest in your 15 passenger van, the excitement and anticipation will build with each passing mile. The stunning landscapes and the prospect of tackling the forest's challenging trails will make your journey as exhilarating as the destination itself.
Upon arriving at Pisgah National Forest, your group will be captivated by the breathtaking scenery and the allure of the mountain biking trails. As you navigate the forest's diverse terrain, you'll experience adrenaline-pumping descents, heart-pounding climbs, and the satisfaction of conquering challenging obstacles.
During my own mountain biking adventure with friends, the bonds we formed during our journey and shared exploration of Pisgah National Forest's trails were truly unforgettable. Our friendships deepened as we supported each other through the challenges and reveled in the triumphs of our exhilarating rides.
Explore the Mountain Biking Paradise of Pisgah National Forest, North Carolina
Situated approximately 12 hours away from Richmond, Pisgah National Forest in North Carolina is a renowned mountain biking destination. The forest's rugged terrain, diverse trails, and stunning landscapes provide the perfect setting for a fun group adventure.
Rent A Van In Richmond: Trail Options
Pisgah National Forest boasts hundreds of miles of world-class mountain biking trails, catering to riders of all skill levels. Some of the most popular trails include:
Bennett Gap: This challenging 4.7-mile trail offers technical descents, steep climbs, and jaw-dropping views of the surrounding landscape.

Black Mountain: As one of the forest's most iconic trails, this 7.2-mile ride features thrilling descents, rock gardens, and switchbacks that will test your skills.

Pisgah Area SORBA Beginner Loop: Designed for novice riders, this 3-mile loop consists of gentle climbs and descents, allowing beginners to build confidence and experience the thrill of mountain biking.
Other Activities
In addition to exceptional mountain biking, Pisgah National Forest offers a stunning variety of outdoor activities for your group to enjoy, such as:
Hiking: With over 1,600 miles of trails, the forest offers countless opportunities for hiking and exploring its diverse ecosystems.

Camping: Choose from numerous campgrounds and dispersed camping options to spend the night surrounded by nature.

Fishing: The forest's many rivers, streams, and lakes provide excellent fishing opportunities for anglers of all skill levels.
Local Eats and Must-See Stops Near Pisgah National Forest
After a day of heart-pumping mountain biking, your group might be craving some delicious food and unique attractions to explore in the area. Check out these local favorites and cool stops around Pisgah National Forest that will appeal to your adventurous crew:
Restaurants
1. The Hub and Pisgah Tavern: Refuel with a tasty meal at this bike shop and café, offering a variety of sandwiches, burgers, and local craft beers. With a laid-back atmosphere, it's a great spot to relax and share stories of the day's adventures.
2. Cedar Mountain Café: Satisfy your hunger with delicious, locally-sourced meals at this cozy café. The menu features a range of options, including vegetarian and gluten-free choices, ensuring something for everyone.
3. The Square Root: Located in nearby Brevard, this eclectic eatery offers a mix of American and international fare in a relaxed setting. The menu is diverse, and the craft beer selection will be a hit with your group.
Rent a Van Richmond and Make Plenty of Interesting Stops

1. Sliding Rock: Take a break from biking and visit this natural water slide located within Pisgah National Forest. Slide down the 60-foot rock face into a refreshing pool of water. It's a fun and invigorating experience that your group will love.
2. Looking Glass Falls: A short drive from the forest, this stunning 60-foot waterfall is a must-see. Snap some group photos and take in the beauty of this natural wonder.
3. Cradle of Forestry: Immerse yourselves in the history of American forestry at this interactive museum and heritage site. Explore the grounds, visit the historic buildings, and learn about the birth of modern forest conservation.
4. Brevard's Downtown Art Scene: Venture to nearby Brevard and discover its vibrant art scene featuring galleries, murals, and sculptures. The town's creative atmosphere and charming streets make it a great place to unwind after an action-packed day.
Exploring these local restaurants and attractions will not only satisfy your hunger but also enhance your group's overall experience, creating lasting memories on your mountain biking odyssey.
Rent A van Richmond from Greenvans for your Adventure
A mountain biking adventure at Pisgah National Forest in North Carolina is an unparalleled experience that you and your friends will cherish for years to come. Renting a 15 passenger van in Richmond, Virginia, ensures a comfortable and convenient journey for your entire group.
With thorough planning, the right gear, and a spirit of adventure, your mountain biking expedition will be a resounding success. So gather your friends, rent that van, and embark on the adventure of a lifetime!