Taking the entire family on a trip can be logistically challenging, to say the least. But we're here to tell you that it doesn't have to be.
Why not rent a 15 passenger van in Providence this year and make the most of your time together on the road? Not only will you avoid the stress and hassle of coordinating multiple cars and families, but you'll also be able to bond and create lasting memories while marveling at the stunning fall foliage.
Stay tuned, folks, and be sure to keep reading for our top tips on planning your perfect New England getaway.
---
Choosing Your Destination
There is an absolute abundance of beautiful places to see in New England during the fall, but we understand that trying to narrow down your options can be overwhelming.
If you're looking for breathtaking scenery and plenty of photo ops, we recommend driving up along the coast—from Rhode Island all the way up through Maine—where you'll be treated to ocean views as well as colorful leaves dotting the landscape.
Another great option is taking a scenic drive through Vermont's iconic covered bridges—of which there are more than 100! No matter where in New England you decide to visit, you're sure to find plenty of charming small towns and villages to explore.
---
Find the Right Large Passenger Van Rental in New England

Now that you've made a decision about where you want to go, it's time to start planning how you'll get there. That's where a 15 passenger rental van in Rhode Island comes in!
Not only will this type of vehicle save you the headache of coordinating multiple cars and drivers, but it will also give you plenty of space for storing everyone's luggage and any souvenirs you may pick up along the way.
With so much room, everyone can stretch out and enjoy the ride. Just make sure to book your rental van early—they go fast during peak travel times!
---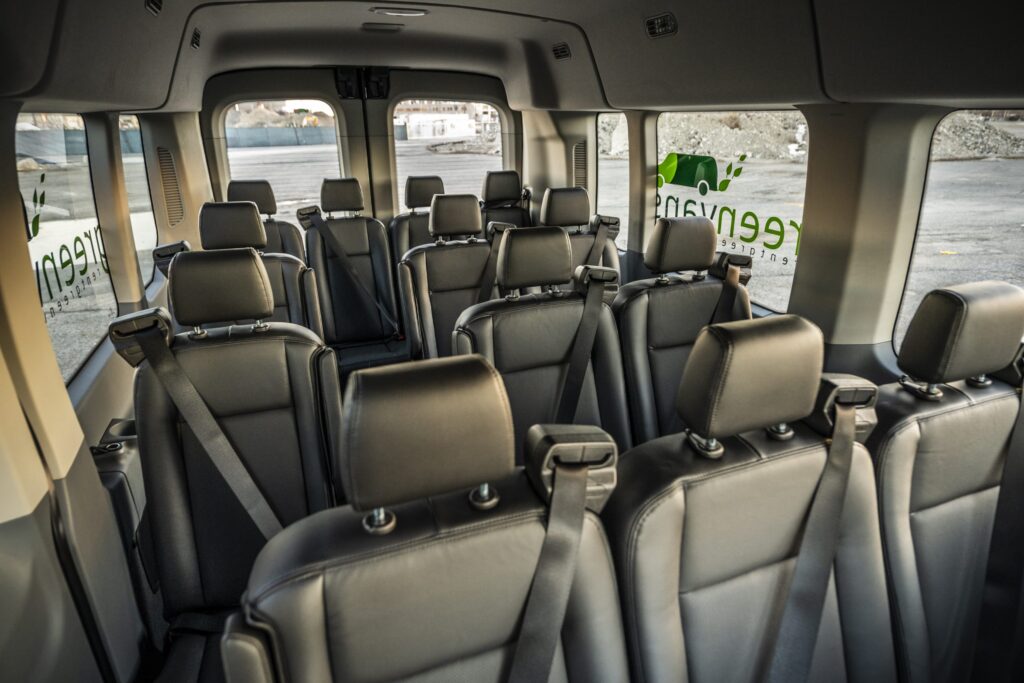 The Journey to New England
Once you've sorted out your destination and your rental van, all that's left to do is hit the road!
If you're driving up the coast, we recommend starting in Rhode Island and making your way north through Connecticut, Massachusetts, New Hampshire, and Maine.
Or, if you're taking the Vermont route, head west from Massachusetts into the Green Mountain State.
Either way, you're certain to be treated to some amazing views—just remember to take plenty of breaks so everyone can stretch their legs and enjoy the scenery.
Exploring New England during the Fall Colors Season
Now that you've finally arrived in New England, it's time to start exploring!
If you're going on a coastal route, be sure to check out some of the region's most popular attractions, such as Newport, Rhode Island's Cliff Walk, and the mansions of The Hamptons in New York.
And if you're in Vermont, don't miss the opportunity to explore some of its charming small towns and go for a scenic hike through one of its many state parks.
No matter where you go, you're sure to have a wonderful time—just make sure to take plenty of pictures to capture the memories!
Bottom Line
We hope these tips inspired you to plan your family trip up north this fall! Remember, renting a 15 passenger van in Providence is an easy way to make sure everyone stays together and enjoys the ride. So what are you waiting for?
Start planning your perfect New England getaway today.

---
Ready to rent a 15 passenger van from Greenvans? Let's Go!