The Beauty of the Beach in the Winter: Road Tripping New Jersey's Coast from NY
New Jersey is so underrated.
Having grown up there, I speak from direct experience. Even after 10 years living on the glittering aquamarine Caribbean-style beaches of Miami, I still go slightly breathless at the sight of the expansive Atlantic City coastline during the winter. The indigo, steel gray and silver undertones lend themselves to a peaceful setting which is hard to replicate anywhere else.
Yet the tranquility of the beach in winter is discounted by the masses. Throngs of "shoobies" flock the shores in the summer months, contributing to trash, traffic and noise pollution. After a drawn-out season of blistering winds and freezing temps, the ache for sizzle and sea is understandable.
Still I maintain that the simplicity and serenity of the Jersey Shore in the winter is a sight to behold and until now, only true-blue locals are privy to it.
That's why this post is dedicated to the underdog.
Rent a 15 passenger van in Philadelphia from Greenvans then invite your friends and family on a winter getaway.
Space for Everybody and Everything in your Rental Van.
Pack up the van with the essentials that include:
Snacks
Playlists (preferably an eclectic one that has been shared with your fellow road trippers, giving everyone the chance to add some music)
Games (see previous post LINK TO ROAD TRIP GAMES for ideas)
Blankets & pillows to make the driving experience extra cozy and comfortable
Remember, the destinations often seem like the highlight of a road trip. The reality is, the road is where memories are made and bonds are tightened. Inside the van provides a home base that gives everyone a chance to talk, laugh and interact. Which is why we love road trips so much.
Instead of breaking up into a caravan of cars, a 15 passenger van rental in Philadelphia brings your crew together. It makes everything easier: parking, communication, last-minute pit-stop coordination, dining decisions. No need to text back and forth with the convoy; everyone in the van can weigh in on the topic at hand, instantly.
So what does a NJ Coastal road trip entail?
New Jersey's coast extends 144 miles in total, starting from Sandy Hook in the North to the southernmost tip of Cape May. You could feasibly stop in every beach town and enjoy a vastly different vibe, but for sake of time (assuming you don't have all of it in the world) let's sum this up with the following must sees:
Sandy Hook
What to see: The oldest operating lighthouse in the country.
Find out more: www.nps.gov/gateApproximate driving time from Greenvans 15 Passenger Van Rentals Location in Philadelphia: 2 hours
Asbury Park
What to see: The boardwalk and The Stone Pony, made famous by Jersey boy Bruce Springsteen.
Check out events at the Stone Pony here.
Approximate driving time from Sandy Hook: 30 minutes
Spring Lake Beach
What to see: Victorian houses and a charming downtown.
Learn more about Spring Lake Beach here.
Approximate driving time from Asbury Park: 20 minutes
Seaside Heights
What to see: The boardwalk and OBVIOUSLY the house where the cast of Jersey Shore lived.
A truly iconic American cultural landmark…
Approximate driving time from Spring Lake Beach: 40 minutes
Long Beach Island
What to see: Barnegat Light, a fishing town on the Northernmost point of the island that has changed little in the last century.
Find out more: https://visitnj.org/city/barnegat-light
Approximate driving time from Seaside Heights: 1 hour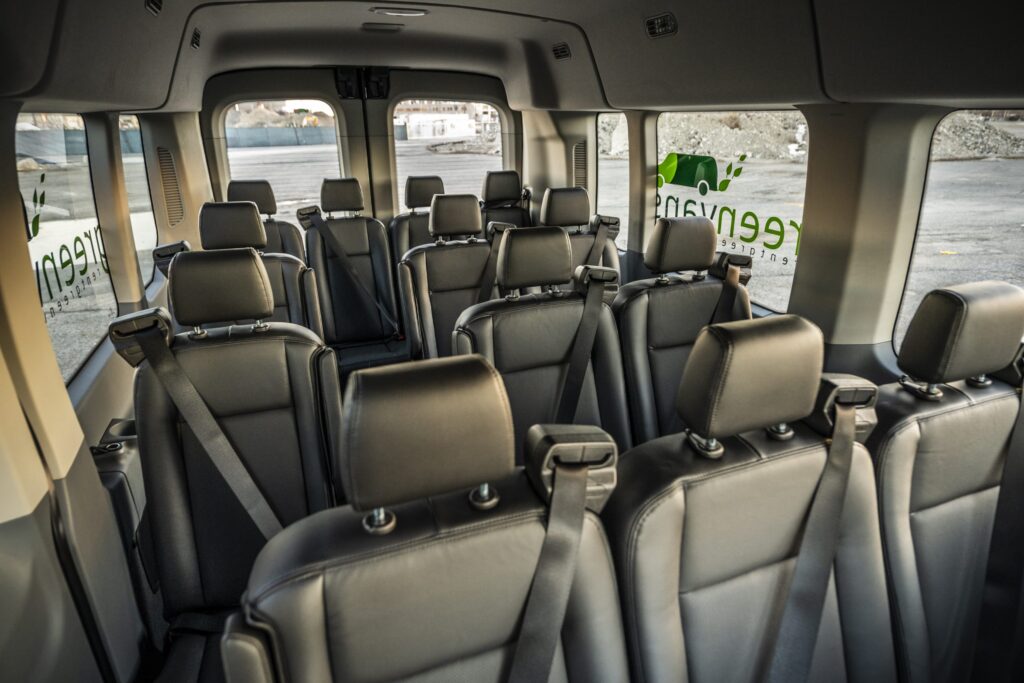 Atlantic City
What to see: I'm going to bulk a few towns together here to make sure you have a proper feel for the AC area. Be sure to check out Lucy the Elephant in Margate, Ventnor City Fishing Pier, and the famed Atlantic City Boardwalk. Bonus tip: Rent bikes on the boardwalk in AC and ride to the end of Ventnor to take in the expansive beauty of the beach.
Learn more about Atlantic City here.
Approximate driving time from Long Beach Island: 1 hour
Nature lover?
Allow me a detour suggestion. Pop to Galloway, where you can visit the 47,000 acre Edwin B Forsythe National Wildlife Refuge.
Find out more: https://visitnj.org/nj-hiking/edwin-b-forsythe-national-wildlife-refuge
Approximate driving time from Atlantic City: 20 minutes
Cape May
What to see: Cape May Lighthouse, Historic Cold Spring Village, multiple breweries including Cape May Brewing Co., and a cheesy but entertaining ghost tour.
Find out more: https://www.capemay.com/visitor-faqs
Approximate driving time from Atlantic City: 1 hour
Approximate driving time from Cape May to our Greenvans office in Philadelphia, PA: 2 hours.
Renting a 15 passenger van with Greenvans is so easy and fun that once you start, it will be hard to imagine road tripping any other way.
---