The Ultimate Family Adventure in the Red Rocks
The journey from Providence, Rhode Island, to Sedona, Arizona is filled with remarkable sights and memorable experiences. Are you planning on traveling with a large group? If so, a passenger rental van from Rhode Island is the solution you're looking for. This ensures there is plenty of space for everyone on the long drive to the beautiful desert!
Comfort is also guaranteed. Greenvans in Providence, Rhode Island offers high quality 15 passenger van rentals. We also provide exceptional service for your trip. Check us out today and plan your road trip to Arizona!
Sedona is located in northern Arizona, surrounded by majestic red rocks. It's a paradise for outdoor lovers, offering many adventures and landscapes to explore. People of all ages can enjoy its vibrant culture.
Rent a 15-passenger van from Greenvans Rhode Island. Your family can travel comfortably and safely around Sedona. Make memories that will last forever.
There Are Endless Outdoor Adventures to Experience in Sedona
With a plethora of outdoor activities available, Sedona is truly an adventurer's playground. Hiking, mountain biking, rock climbing, and horseback riding are just a few of the countless ways to explore the area's striking landscape.
The Red Rock State Park and Coconino National Forest provide endless opportunities for family friendly outdoor excursions.
For hikers, we recommend the iconic Cathedral Rock Trail. This is a 1.2-mile round-trip hike that rewards you with breathtaking views of the surrounding red rock formations.
Mountain bikers will love the challenge and thrill of the Broken Arrow Trail. This ride offers stunning scenery and varying levels of difficulty for riders of all ages and skill levels.
For a unique experience, consider a guided horseback riding tour through the picturesque desert terrain.

Discover Sedona's Rich Culture and History
Sedona's vibrant art scene and rich cultural heritage make it an ideal destination for those looking to experience more than just outdoor adventures.
The city boasts numerous art galleries featuring local and international artists. There are also various festivals and events throughout the year.
Take a stroll through Tlaquepaque Arts & Crafts Village, a charming, Spanish-style market with cobblestone walkways, lush gardens, and stunning architecture. Here, you'll find a variety of shops showcasing handcrafted art, jewelry, and pottery.
Don't forget to visit the Chapel of the Holy Cross. This is a stunning wonder that blends seamlessly with the red rocks, offering a peaceful place for reflection and meditation.
For history buffs, a visit to the Palatki Heritage Site is a must. Home to ancient cliff dwellings and petroglyphs, this site provides a fascinating glimpse into the lives of the region's early inhabitants.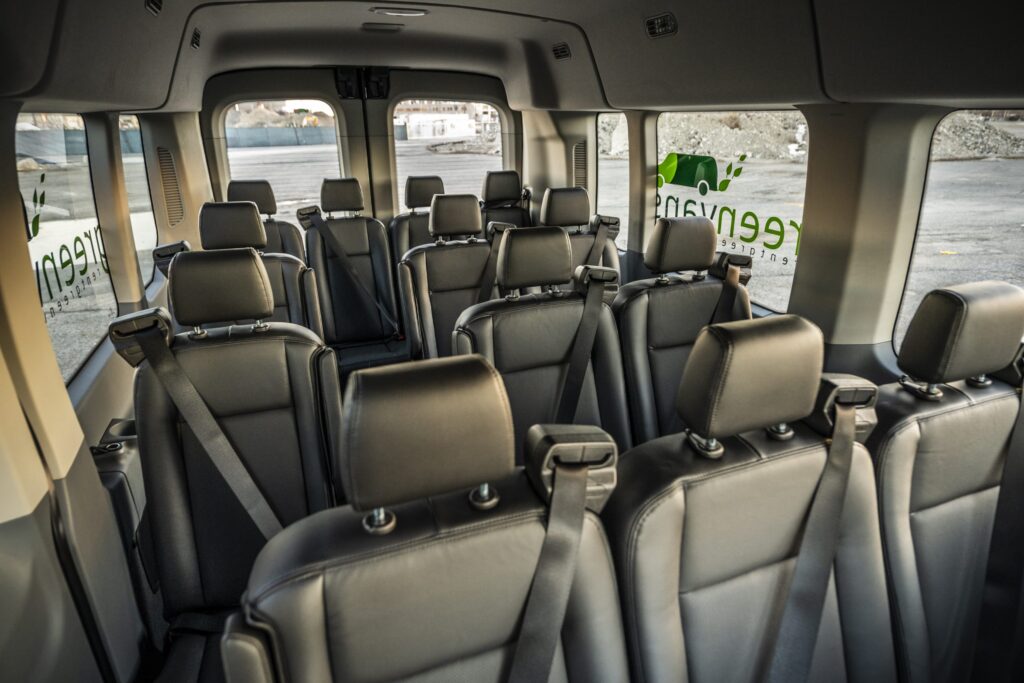 Bottom Line
Sedona, Arizona, offers the perfect combination of outdoor adventure, cultural experiences, and stunning natural beauty, making it the ultimate destination for your family's next getaway.
A 15 passenger rental van from Greenvans in Rhode Island promises a comfortable journey from Providence to Sedona, allowing you to create cherished memories on your long road trip.
So, what are you waiting for? Contact us today for all your van rental needs, and start planning your family's memorable adventure in the Red Rocks today!