April vacation is coming up quickly! If you're ready to pack up the kids and the extended family for a trip out of the Northeast, now is the time to plan. Flights are already outrageously expensive for April school vacation week in Massachusetts. This means lots of people will be traveling this Spring, and there's a better way to travel than to spend a fortune on flights for your large group. If you're looking for a van rental in Boston to accommodate your whole group and your budget, Greenvans has the perfect solution for your Spring trip.
Having trouble finding a 15 passenger van rental in Boston for your trip to Florida for April vacation? Greenvans still has plenty of brand new 2023 Ford Transit Medium Roof 15 Passenger vans ready to go for rent.
Click here to get a quote and make a reservation before all of our passenger van rentals in Boston are booked up for April vacation week!
Book your Van Rental Boston for April Vacation Early
You might be having a lot of trouble finding a rental agency that has passenger vans in Boston still available for the dates you're looking for.
There's a reason for this. The global chip shortage and vehicle production disaster of Spring 2021 may be out of the news headlines, but it's still a big problem in the auto rental world.

Passenger vans are hard to find because production of these vehicles is still limited and demand is higher than ever. Supply chain disruptions of all kinds, not just microchips, have impacted the normal production of speciality vehicles like 15 passenger vans.
This means that both the large vehicle rental agencies (which don't have a huge inventory of 15 passenger vans anyway, especially in Massachusetts), and the smaller independent companies that specialize in 15 passenger van rentals don't have nearly as many vehicles as they normally would as we move into the busy travel season.
Great news for you though – Greenvans was lucky enough to get most of our 2023 15 passenger van orders earlier than expected this year. That means we have plenty of brand new 2023 Ford Transit Medium Roof 15 Passenger vans available for rent for April vacation!
Searching for a 15 Passenger Van Rental at Boston Logan Airport?
While our main New England hub is located in Providence, RI, we deliver vans all over Massachusetts and New England.

Boston Logan Airport is one of our standard van delivery options. Whether you're flying into town and need to rent a passenger van from Logan, or you live in Chelsea, Revere, Saugus, Everett, Malden, Quincy, or anywhere else that's close to Logan Airport, Greenvans can get you the 15 passenger rental van in Boston that you need for April vacation week.
We service Boston Logan Airport by delivery. When you request a quote online and select Logan Airport as the starting or ending location for your van rental in Boston, you'll see the delivery and pickup fees included in your rate.
Once you make your van rental reservation in Boston with Greenvans, our team will coordinate your van delivery to Logan Airport. If you're flying in, we'll meet you curbside at your arrivals terminal with your van after you collect your luggage.
If you live locally in Boston, our team will coordinate an easy pickup location for you to collect your van.
We handle all of our van rental paperwork online in advance so the day of pickup is as easy and seamless as possible. One of our drivers will meet you, do a quick walkaround, answer any questions about the van you might have, and you're on your way!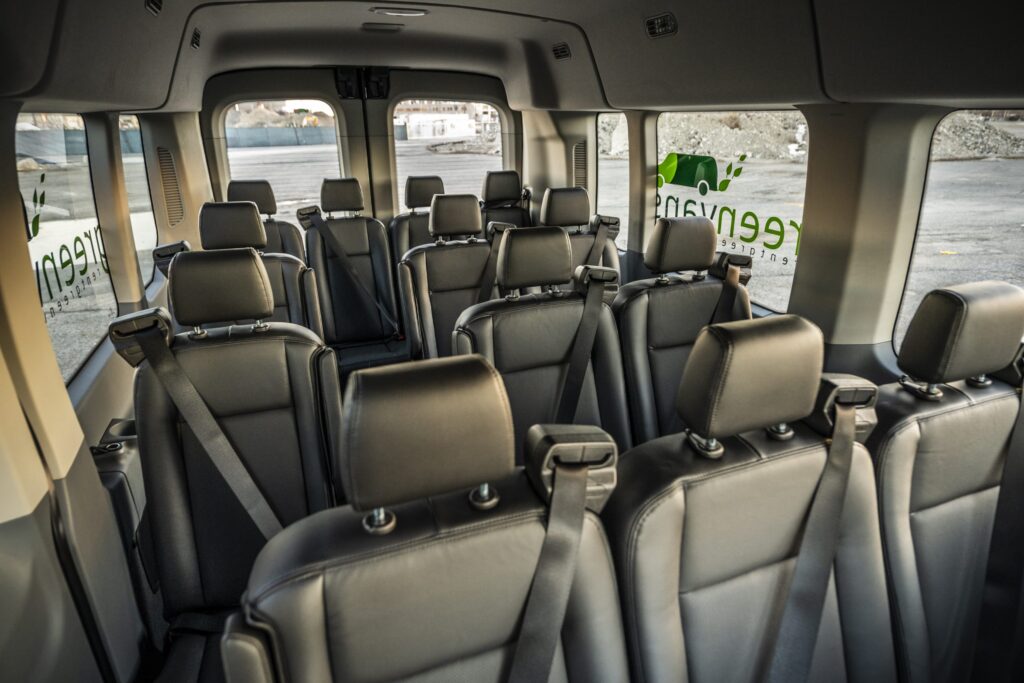 Additional Van Rental Pickup Locations in Massachusetts
Is Logan Airport Van Rental not a convenient option for you to rent a van from?
That's ok! We have a number of standard delivery options for Massachusetts customers:
Rt 128/University Ave Station in Westwood
We can deliver your 15 passenger van rental in Massachusetts to any of these destinations. If those don't work for you, contact us for pricing and options for a custom delivery location and we'll bring your rental van right to your door, right when you need it.
Contact us today so we can set you up with a quote for a van rental in Boston with a custom delivery!
Book Your Passenger Van Rental in Boston for April Vacation Today
We'd love the opportunity to be a part of the memorable April vacation trip you're planning with your family this Sping. Whatever your destination is, we know it's important to you and we're all about helping making great experiences happen.
Give us a call at 833 – 640 – 8267 or get a quote through our website here.

We'd love to be a great solution to your van rental needs here in Boston.