If you're planning a big family road trip and you're having trouble finding the right van to fit your whole crew, a 15 passenger van rental in southern mass from Greenvans might be exactly what you're looking for.
You have no doubt had a hard time finding the right passenger van rental from a company you can trust.
Large passenger van rentals were hard to find before the great chip shortage of 2021. Since then, supply chain woes have driven prices up like crazy.
Reservations with the big airport car rental agencies are more of a "place in line" rather than a guarantee. Many of the independent rental companies have limited inventory. (Read more about the risks of "reserving" a van with the big guys here)
If you're still having trouble tracking down the van you need in Massachusetts and you've found yourself here, Greenvans has a large fleet of brand new medium roof Ford transit 15 passenger rental vans in Providence, Rhode Island.
---
How can we make the van rental process easier for you?
You may have discovered quite a few options for van rental agencies in the Greater Boston area, including Logan Airport. But, as the whole family gets ready to journey down to Florida, Georgia, or the Carolinas for a much needed getaway, you have plenty to plan and think about.
The last thing you want to do before your trip even begins is to fight through the dreaded inbound morning rush hour traffic up Route 24 from New Bedford, Fall River, Taunton, Brockton, or Attleboro to sit in the 93 northbound parking lot all the way up to Boston
The object of the game here is to escape the city congestion, not spend an extra day letting it stress you out even more before you head out of town with the fam.
If you're on the hunt for a quality 15 passenger van rental near Attleboro, New Bedford, Taunton, Brockton, or any other southeastern Mass or south shore city, Greenvans in Providence is a quick and easy (traffic-free) drive or commuter rail trip for you to find exactly what you're looking for. 
---
Great rental vans. Great service.
We may have plenty of brand new, high quality passenger vans, but customer service is our true calling. We've spent 15 years building a company based on trust and service excellence, because we know just how important the trip you're about to embark on is to you.
Greenvans, LLC1911 Westminster St,
Providence, RI 02909
Be sure to make a reservation online here first or give us a call: 833-640-8267
---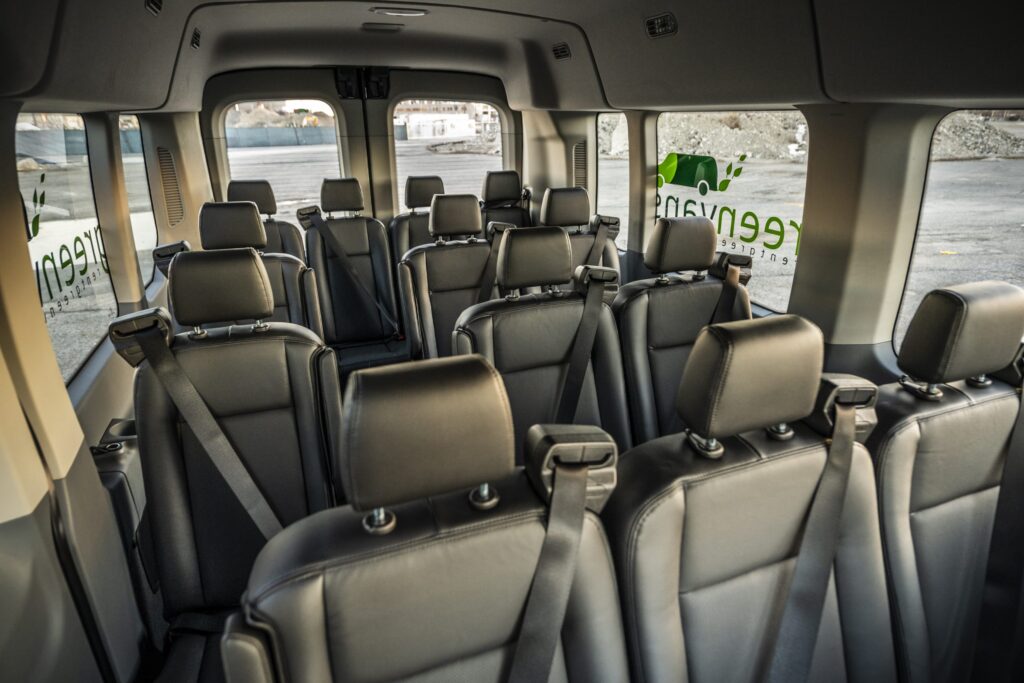 We're glad you asked!
Your van rental is just one of many moving parts that need to come together to make your trip a success. We're committed to being the most flexible, attentive, and easiest part of that trip – because the memories you make on the road matter to us, too.
We're a 15 year old van rental company with offices in Providence, Philadelphia, and Richmond. We specialize in long term rentals, mainly for touring bands and the entertainment industry, but we've brought our impeccable level of service into the leisure travel world, too. Learn more about us here! We started Greenvans in Massachusetts but we recently moved our main New England office to Providence, Rhode Island. So if you can't find us in Mass and you're searching for a 15 passenger rental van in southern mass, look a little further and a little more conveniently south to find Greenvans in Providence, Rhode Island!
WE'RE FOCUSED
We do one thing and we do it exceptionally well: We ONLY rent the highest quality 15 passenger ford medium roof transit vans to people who need vans. No sneaky switches or "or similar" language here.
WE'RE SPECIALIZED
We're a customer service organization that just happens to rent vans.
We know you're not here JUST because you need to rent a van. You're putting together a memorable experience for the people traveling in that van. We're here to help serve that experience first.
WE'RE SIMPLE
Travel is complicated. Greenvans isn't. We complete our rental process with you online in advance so you have time to ask questions and make decisions from the comfort of your own home, not under pressure from a counter agent trying to get to the next person in line. Your pickup appointment is exactly that: YOUR appointment. No surprises the day you come to pick up your rental van.
WE BELIEVE…
…that when we hand you the keys to your rental van, we're handing you the opportunity to have the kinds of experiences you'll be telling stories about for a lifetime. Greenvans is a small group of thoughtful, committed human beings who value great experiences. It's our calling to help you experience some of your own.
What's your story and how can we help you tell it?
---
Find your 15-passenger van rental in southern Mass from Greenvans to make every mile of the journey something to remember.