In Japan, the cherry tree, or "sakura", symbolizes renewal. Its blossoms open in spring and last about one month. The flowers range from light pink to deep rose, with some whitish-green varieties. There are several states in the USA where cherry trees thrive, from Massachutsetts to California. The more south you go, the earlier the blossoms will burst. It's such a sight to behold that festivals are held all over the country to celebrate both the beauty of the flowers and of Japanese culture. These festivals are just a "road trip" away from the 4 main Greenvans passenger van rental offices in Providence, New York, Philadelphia and Richmond.
With spring fast approaching, isn't it about that time to start planning a road trip to chase the cherry blossoms festival in 2024?

We think so. Which is why we've put together several itineraries to get you going.

What you'll need:

A small group of friends and family
A few days off
A picnic blanket (A Picnic under a tree is called "hanami" in Japanese)
A few Japanese-style snacks for the car ride
A good playlist
A Japanese language podcast

A Greenvans rental van
Why take a Ford Transit Passenger van Rental from Greenvans:
There is a certain magic to a road trip that you just can't recreate on a plane: the windows open, breeze coming in, the radio blasting and everybody you love together in one place. You can talk openly without strangers hearing you, you can sing out loud without anyone staring at you.
The freedom of the road is hard to beat.

That's why we love providing you with the large passenger van rental you need to make that happen. We believe any "trip" can be turned into a "road trip". An unforgettable one.
We've made it easy to take your family on an open road adventure. With Greenvans, you can rent an 8, 12 or 15 passenger van from any of these locations: Providence, New York, Philadelphia and Richmond.
We can also arrange to drop the rental van off at your house.
Contact us and we can help you decide the best way to get your trip started!

Where you'll go:
If you can't actually go to Japan, visit that which Japan has brought to you. The East Coast is peppered with options to frolic under thousands of fluffy, pink cherry blossoms.

Whether your starting point is Philadelphia or Providence, Boston or Richmond, you are just an unforgettable drive away from your first hanami.
The following trips have been developed according to region, but many of the locations can be swapped, switched or added.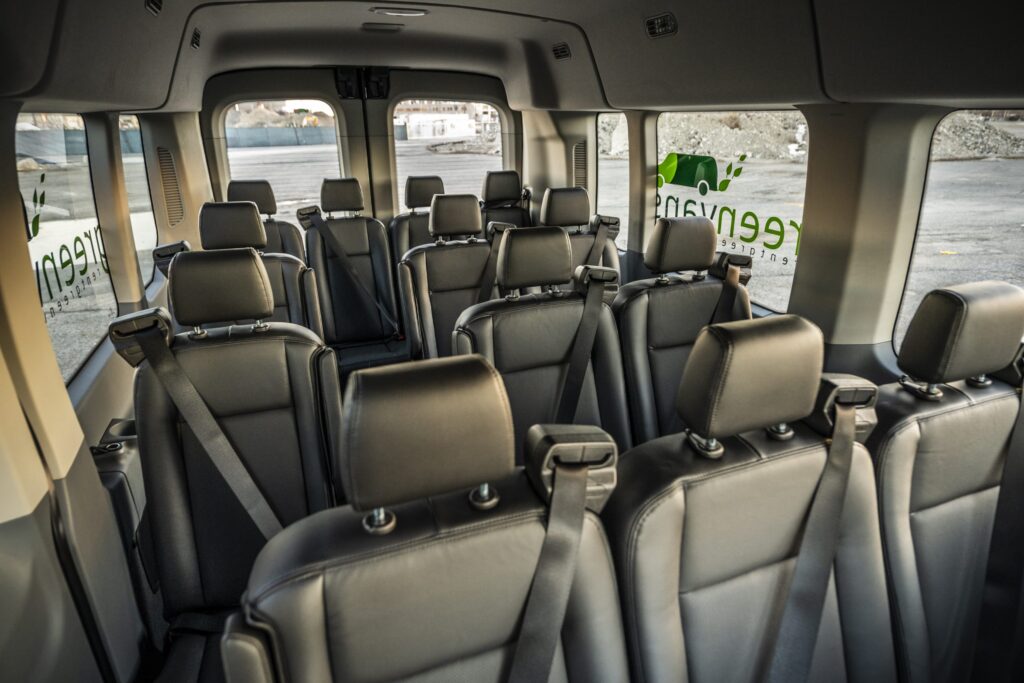 If you are renting a passenger van in Philadelphia:
Drive to Washington DC (approximately 2hr45min). Visit the National Cherry Blossom festival, taking place March 20 – April 6, 2023. Visit their website to check the exact blossom dates.

Bring some snacks, along with a good bottle of sake or some sakura (cherry blossom!) tea to dine beneath a tree.

Notes: DON'T break off any branches! In Washington DC, this is considered vandalism and can result in a fine.

Consider splurging this evening with a delicious Omakase dinner at Sushi Taro. Families can opt for something more casual and kid-friendly like Rakuya.

From DC, hop in your Transit van rental and drive to Ohio State University in Athens, OH (approximately 6hr), whose campus is studded with the cherry trees gifted by Japan's Chubu University in 1979. Halfway through, stretch your legs and get some fresh air with a stop at Savage River State Forest.
If you are renting a passenger van from Richmond, VA:
Drive first to Irmo Town Park, SC (approximately 5hr30min) and enjoy an afternoon festival under the cherry blossoms on March 25. A trip in an 8, 12 or 15 passenger rental van is so spacious and comfortable, you may not want to stop driving. Still, consider popping to Fayetteville, NC along the way to catch a glimpse of the Rose Garden in bloom. There's a ton to do, from farms to farmers markets, historic houses to a quaint downtown.

Meanwhile, once in Irmo, eat at Mikono's Diner or take it to go so you can dine hanami-style under the cherry trees.

Continue on your journey to Macon, Georgia (approximately 3hr15min) where you will stumble upon more than 350,000 Yoshino cherry trees in full bloom! The official festival lasts from March 17 – 26, and the blossoms should last into early April. Look into take out or dining in at Tokyo Alley for some good quality Japanese fuel.

On the way home, spend a day or two at Francis Marion and Sumter National Forests to hike or bike along the Appalachian Trail. One of the best things about driving a passenger van is the spaciousness – you can bring along your hiking boots with room to spare.
If you are renting a passenger van in Providence, RI:
Start your cherry blossom adventure at the Brooklyn Botanic Garden (approximately 3 hours). The bloom here is predicted for late March/early April. It's a beautiful place to spend a sunny day with friends or family, so have a little picnic packed for the occasion. There is parking available for the passenger van at the 900 Washington Avenue entrance.

This evening, enjoy dinner at a Japanese restaurant close by, like Ozakaya Sushi or Ki Sushi.
Next stop is a quick 45-min zip to Branch Brook Park in Newark, NJ, where the cherry blossom celebration is scheduled for April 1 – 16. If you're looking for a themed lunch, try out Curiosity by Intrinsic.
From Newark, hop in the van and head toward Philadelphia (approximately 1hr30min). The Cherry Blossom Festival will be held April 15 – 16 in West Fairmount Park. Expect music, vendors and sushi classes!

If you haven't had your fill of Japanese, head to Kei Sushi Restaurant on South Street. If you're in the mood for something different, it wouldn't be a trip to Philly without chowing down on a pretzel or a cheesesteak.

Eventually it's time to make your way back north. Stock up on some more snacks for the road before departure to New Haven. Reshuffle your playlist or practice your Japanese language skills in the van. After a 3 hour ride, you'll arrive at historic Wooster Square for their annual cherry blossom festival on April 16. Have some authentic ramen for lunch or dinner at Menya Gumi.
I'm sold. But what if I have questions while I'm on the road?
The staff at Greenvans is always available to answer any questions you have before, during and after your trip. Just give us a call, we're here to help!