Renting a passenger van can be the perfect way to travel when planning a group trip. Not only is it the most affordable option, but it's also a great way to have some fun on the way to your destination.
I rented a passenger van in Boston for my group trip to Portland, Maine; it was the perfect way to travel. We saved money by traveling together, and we had a lot of fun on the way. Portland is a great destination, with plenty of things to see and do. I would definitely recommend getting all of your friends together in one large passenger van rental to make the trip to Portland, Maine.
Here are four things you can do on your way from Boston, Massachusetts, to Portland, Maine.
Why Renting a Van for Your Group Trip is the Best Way to Go
Group trips are a ton of fun. You get to share new experiences with your friends, create lifelong memories, and bond in ways you never thought possible. But planning and coordinating a group trip can be a bit of a daunting task, especially when it comes to transportation. That's where renting a passenger van comes in. Not only is it a more affordable option than renting multiple cars, but it's also more convenient and eco-friendly.
Here's why renting a van for your group trip is the best way to go.
---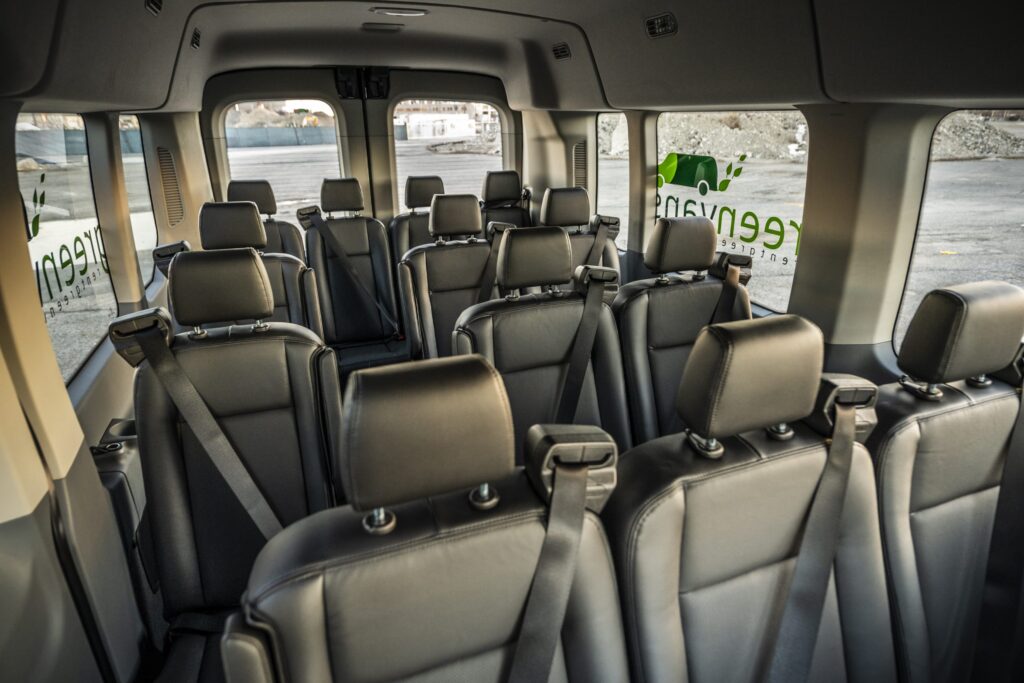 1. It's More Affordable Than Renting Multiple Cars
Now that we have some of my lessons down, let's talk about some things that will make your big adventure even better. Here are some super helpful and simple tips to guide you along the way:
If you're planning a group trip, chances are you're on a budget. And while flying may be the quickest way to get to your destination, it's not always the most affordable. That's where renting a passenger van comes in.

When you split the cost of renting a passenger van among your group, you'll find that it's much more affordable than renting multiple cars—not to mention cheaper than flying! Plus, you'll save even more money by being able to pack everyone's belongings into one vehicle instead of having to pay for checked baggage fees.
---
2. It's More Convenient Than Multiple Cars
Renting one large passenger van for your group trip is also more convenient than having everyone drive their own car. For starters, you won't have to worry about coordinating everyone's schedules and making sure everyone knows which route to take.

If you take turns driving, when it's your turn to kick back and relax, all you have to do is enjoy the ride as your designated driver takes care of everything. Plus, having everyone in one vehicle means that you can make pit stops together and enjoy some quality bonding time on the road.
3. It's More Eco-Friendly Than Multiple Cars
When you rent a van for your group trip, you're not just being economical but also eco-friendly. Passenger vans are much more fuel-efficient than most cars on the road today, especially the Ford Medium Roof Transit Passenger Van models with the EcoBoost turbo.

Companies like Greenvans offer passenger van rentals that seat up to 15 people and get great gas mileage – perfect for groups of friends looking to explore everything New England has to offer. So if you're looking for an affordable, convenient, and eco-friendly way to travel with your friends, look no further than renting a passenger van from Greenvans in Boston, Mass or Providence, Rhode Island.
Road tripping from Boston to Portland? Here are 5 Can't-Miss Stops Along the Way.
If you're planning a road trip for you and your friends from Boston to Portland, you're in for a treat. The drive is relatively short (about 4 hours), and there are so many fun things to see and do along the way. Here are five of our favorite stops between Boston and Portland:
The Freedom Trail in Boston, Massachusetts
A must-do for anyone visiting Boston, the Freedom Trail is a 2.5 mile long walking trail that passes by 16 historically significant sites related to the American Revolution. Start at Boston Common and end at the USS Constitution Museum for a crash course in American history.
The Salem witch trials in Salem, Massachusetts
Just a short detour off the main route, Salem is home to a number of spooky (and historical) sites related to the infamous witch trials of 1692. Walk the witch trial route, visit the witch trial memorial, and experience some of Salem's world-famous Halloween festivities!
The Maritime Museum in Newburyport, Massachusetts
If you're looking for something a little more low-key, Newburyport is home to a number of charming boutiques, cafes, and restaurants overlooking the Merrimack River. Also, be sure to swing by the maritime museum to learn about Newburyport's rich shipbuilding history. If you do make the stop in Newburyport, you MUST get yourself some lunch at the Modern Butcher. One of the best sandwiches you'll have in your life.
When You Get to Portland, Maine
Just a few hours away, Portland is a great destination for a long weekend getaway. Here are just a few of the many things to see and do in Portland.
Visit the Old Port District
One of the best things to do in Portland is to explore the Old Port district. This historic area is full of charming brick buildings housing local shops, restaurants, and pubs. Stroll along the cobblestone streets and take in the maritime atmosphere.

When you're ready for some seafood, head to one of the many seafood restaurants lining the wharves. You can't visit Portland without indulging in some fresh Maine lobster.
The Portland Observatory in Portland, Maine
Once you finally reach your destination, be sure to check out the Portland Observatory – the only remaining maritime signal tower in the United States! Climb to the top for stunning views of downtown Portland and Casco Bay.
Explore the Arts Scene
Portland is also home to a thriving arts scene. The Portland Museum of Art is the perfect place to start your exploration of local art. The museum houses a collection of works by famous American artists like Winslow Homer and Andrew Wyeth and European masters like Claude Monet and Pierre-Auguste Renoir.
Afterward, stroll through Congress Street and admire the numerous murals painted on buildings throughout the neighborhood. Finish up your day with a live performance at one of Portland's many theaters or music venues.
Visit the Lighthouse Museum
For a dose of history, head to the Lighthouse Museum. The museum is located in an old Coast Guard station and chronicles Maine's maritime navigation history. Climb up to the top of Bug Light for spectacular views of Casco Bay and its myriad islands. On a clear day, you can even see all the way to Mt. Washington in New Hampshire!
Whether you're looking for seafood, art, history, or simply beautiful scenery, Portland has something for everyone. So load up the car and hit the road—you're sure to have a blast exploring everything this charming city has to offer.


Bottom Line
This road trip from Boston to Portland is the perfect way to see some of New England's best sights. From historic sites to charming seaside towns, there's something for everyone on this trip! So what are you waiting for? 
Call up Greenvans to find your 15 passenger van rental in Boston, grab your map, and start planning your adventure today!
---
---
Ready to rent your 15 Passenger Van in Providence from Greenvans? Let us help you get started.