I graduated from college over a decade ago, and since then it's become more and more challenging to stay in touch with my old friends. Our once lively group chat grows a little quieter (and generally more appropriate) each year, as people focus on their growing families and work obligations. The time we do get to spend together is precious, that's why a 15-passenger van rental for our annual group road trip is now the right move.
What was once a tight-knit group of Boston buddies has slowly morphed into a scattered network of acquaintances who drop each other texts on birthdays and holidays before going about their separate lives again, and for the most part that's totally okay.
But there's one thing that brings us all together once a year, to live vicariously through past versions of ourselves and reminisce about our wilder days, to revel in our shared love of the greatest band alive: the Kings of Leon. You might judge us for it. You might say "they're not that good of a band," or "they sold out years ago," or "they're terrible," but we don't care, and you're wrong.
Once a year we pick a Kings show and all 10 of us make the trip to wherever they're playing that weekend, and it's an absolute blast.
---
Travel Logistics Made Easy
We used to see bands at the XFINITY Center in Mansfield, MA all the time when we were in college right down the road, but nowadays only two of us are living locally, so we coordinated our flights to Boston to arrive within a few hours of each other and had a 15-passenger rental van at Logan Airport from Greenvans waiting for us when we got there.
We each brought a small suitcase and a backpack, and with the back row removed we had more than enough room. The folks at Greenvans were kind enough to remove the row for us ahead of our arrival, which was a nice touch.
We've flown all over the world to catch the Kings, and usually our travel plans are really convoluted because we're coming from different corners of the country. From multiple rental cars to trains, cabs, and ferries, we've done it all. So this year we decided to make it easy on ourselves with a single 15-passenger van rental in Boston for all of us.
---
This Ain't Your Mother's Old Minivan
I used to be skeptical about 15-passenger van rentals because I felt like they would lack the bells and whistles of a regular rental car, but I was so wrong. Our van was a sleek, jet black 2022 Ford Transit with a massive screen in the front, built-in GPS, Apple and Android Car Play, and enough headroom to stand up straight. It had less than a thousand miles on it!
So we got in the van, connected a phone, and started blasting the Kings on our way from Logan down to Mansfield, where we'd rented an Airbnb that was large enough for all of us. We saved a good amount of money by not renting separate vehicles, so we sprung for a slightly swankier house than we otherwise might have.
You'd think parking a large passenger van might be tricky, but the rear-facing camera and sensors made it way easier than anticipated, even though the driveway was somewhat narrow.
We got in for the night, and the old stories started pouring out. How we managed to get a decent amount of rest for the next day is a mystery to me, but it's what the Kings demand. And the Kings get what the Kings demand.
---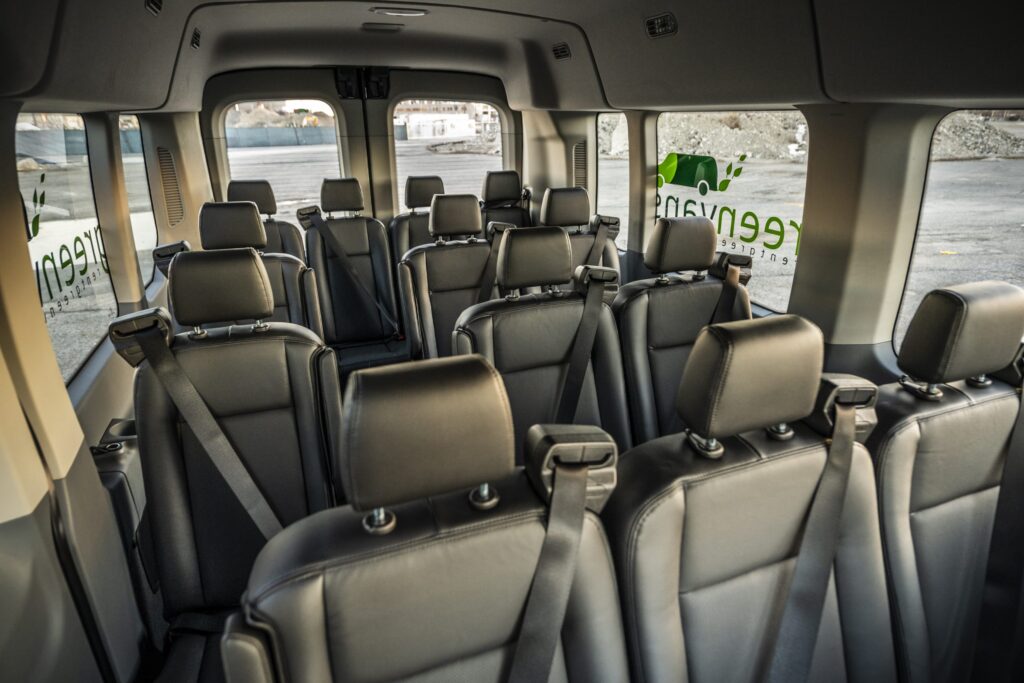 VIP Treatment At The Show and with our Van Rental Experience
Rolling up to the venue in a 15-passenger van rental felt like we were the opening band or something. People looked at us as if we were involved in the action. We only had to pay the parking fee for one car, which was a nice little bonus. And a few of our friends are sober, so there's always a built-in DD.
The Kings never disappoint, and this show was no different. The Cold War Kids started it off, and while I'd never seen them play before, I really enjoyed the set. But then the Kings took the stage, and the crowd went wild. They kicked it all off with 'When You See Yourself' and followed it up with 'the Bucket.'
They continued to play a raucous set, riddled with new songs and all of their big hits, including old staples like 'Molly's Chambers' and 'Revelry.' The whole show was stellar, and the energy at the XFINITY Center was electric. They left us singing the chorus of 'Use Somebody' late into the night. What. A. Show.
Buzzing with excitement, we all floated back to our rental van and hopped in to make the short drive back to our rental home, where we talked through the entire show multiple times, over some late night pizza.
Back to Earth
The next morning we checked out of our place and took the van back to the airport to catch our flights home, another unforgettable weekend with good friends and the Kings in the books. We're already planning our next one, and after our experience with the 15-passenger van rental from Greenvans, I don't see us going back to regular rental cars anytime soon.
Rent a 15-Passenger Van from Greenvans for your Road Trip
Renting a large passenger van from Greenvans felt like we were part of the family, not like we were just another customer in a long line of tired travelers. It's like we were in on a secret.
The staff was personable, kind, and funny, and we always felt well taken care of. The van itself was safe, clean, and stylish, and comfortable to boot! I can't speak highly enough of the experience we had with our passenger van rental, and would encourage anyone planning a trip with a large group to think about it.
They have van rental locations in Providence, Rhode Island, Philadelphia, PA and Richmond, VA and they offer van delivery to airports all over including Boston Airport, PHL, Boston Massachusetts, etc
Get a quote for your next trip now!
---
Ready to rent a 15-passenger van from Greenvans? Let's Go!