The Ultimate Cross-Country Road Trip
Are you ready for an adventure that will take you from the East Coast to the heart of the Wild West? Hop in your family friendly 15 passenger rental van from Richmond and get ready to hit the open road.
From Richmond, Virginia, to the picturesque town of Moab, Utah it's quite an adventure. It's one you can experience in comfort and style when you work with Greenvans to book a brand new 15 passenger rental van.
On this epic journey, you'll travel through scenic routes, stunning landscapes, and charming small towns. It's like taking a history lesson, a food tour, and a nature hike all rolled into one. And all from the comfort of your van, without the need for hiking boots or a backpack.
Day 1: Richmond, VA to St. Louis, MO (722 miles, 11 hours)
After leaving Richmond, hit the road to St. Louis, where you'll discover the city's role in American history. From the Gateway Arch to the Missouri Botanical Garden, there are plenty of sights to see and things to do.
And, of course, you'll have the opportunity to indulge in some delicious BBQ.

Day 2: St. Louis, MO to Kansas City, MO (246 miles, 4 hours)
From the "Gateway to the West" to the "City of Fountains," Kansas City is the perfect pit stop on your cross-country journey. Check out the historic City Market, sample some world-renowned BBQ, and take a stroll through the famous Country Club Plaza.
Don't forget to take a photo with the iconic "Kansas City" sign. (While you're at it, send us a photo of you and your 15 passenger rental van in front of the Kansas City sign!)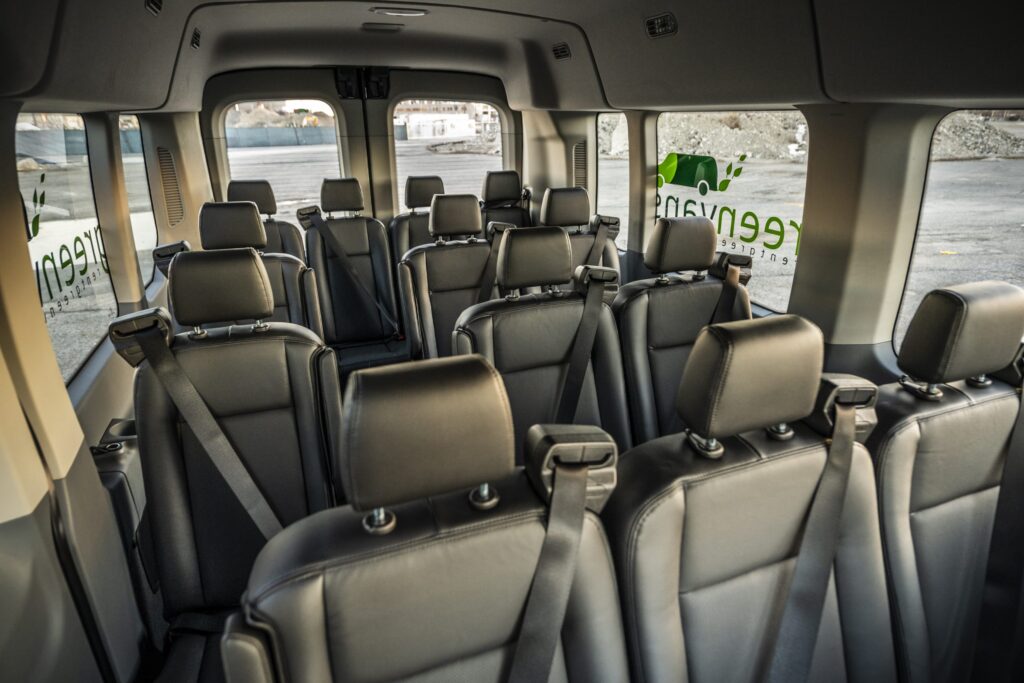 Day 3: Kansas City, MO to Denver, CO (604 miles, 9 hours)
From the rolling hills of Missouri to the towering mountains of Colorado, it's time to head west. Denver is the perfect destination for outdoor enthusiasts and urban adventurers alike.
Whether you want to explore the Rocky Mountains or the bustling downtown area, there's something for everyone.
The best part about a long cross country road trip in a 15 passenger rental van from Greenvans in Richmond? There's plenty of room for everyone to spread out. Maybe you're traveling with a group of 15, or you're traveling with as few as 8 passengers. No matter the size of the group, there's a configuration for you.
We can leave all four rows of seating in the van so every traveler can spread out and get their own row. We can also remove a row or two if you're traveling with up to 11 passengers to make of extra room for luggage.
Day 4-5: Denver, CO
With so much to see and do in the Mile High City, it's worth spending a couple of days here. From the stunning views of Red Rocks Amphitheatre to the delicious food in the RiNo Arts District, you'll have plenty of opportunities to create memories.
Be sure to grab a photo of your 15 passenger rental van from Greenvans in front of the Denver skyline with the mountains in the background. We love us some good content!
Day 6: Denver, CO to Moab, UT (355 miles, 6 hours)
Finally, arrive in the picturesque town of Moab, your destination and the gateway to Arches National Park. Spend two days exploring this majestic park, which features breathtaking sandstone arches, red rock formations, and panoramic views.
You can go hiking, biking, off-roading, or simply enjoy the natural beauty of the area. Make sure to catch the sunset from the top of Delicate Arch. It's a breathtaking sight that will leave you feeling like a true adventurer.
Day 7-8: Moab, UT
With so much to see and do in Moab, it's worth spending a couple of days here. From exploring Canyonlands National Park to rafting on the Colorado River, you'll have plenty of opportunities to create lasting memories. With a 15 passenger rental van from Greenvans out of our Richmond office, you'll have your mobile home base good to go so you can explore all of the important spots as you travel around Moab.
As always, there's the food. With plenty of local cafes and restaurants to choose from, you're sure to find something delicious to satisfy your cravings.
Here are some top choices for what to do:
Arches National Park: This iconic national park is home to over 2,000 natural stone arches, as well as other unique rock formations and stunning vistas. Be sure to hike to Delicate Arch, the park's most famous landmark.
Canyonlands National Park: Just outside of Moab, Canyonlands offers another opportunity to explore Utah's beautiful red rock landscape. The park is divided into four districts, each with its own unique features and attractions.
Dead Horse Point State Park: Located just a short drive from Moab, this state park offers incredible views of the Colorado River and Canyonlands National Park from a 2,000-foot-high plateau.
Off-road adventures: Moab is known as a mecca for off-road enthusiasts. With plenty of opportunities to explore the area's rugged terrain by jeep, ATV, or mountain bike.
River rafting: For a unique perspective on the area's stunning landscapes, consider taking a river rafting trip on the Colorado River.
Whether you spend a day or a week in Moab, there's no shortage of things to see and do. From hiking and biking to off-roading and river rafting, this charming town offers something for everyone.
Book your 15 Passenger Rental Van in Richmond for the Ultimate Road Trip to Moab
If you're looking for an adventure that will take you through some of America's most iconic landmarks and breathtaking natural wonders, this road trip from Richmond to Moab is just what you need.
With plenty of opportunities to explore small towns, national parks, and scenic routes, you'll experience the best of the West.
So pack your bags, book your 15 passenger rental van in Richmond from Greenvans and hit the road.
And don't forget to take plenty of photos, try some local cuisine, and make memories that will last a lifetime. And contact us today for all your van rental needs!