Having trouble finding the right passenger van for rent near Attleboro, Taunton, New Bedford, Fall River, or Southern Massachusetts? You may have just found what you're looking for!
Greenvans has a new van rental location just outside of downtown Providence, Rhode Island.
Fully stocked with a large fleet of brand new Ford Transit 15 passenger rental vans for travelers of all kinds. Family road trips, touring bands, film & production crews, bachelor & bachelorette parties, or the perfect fall camping road trip getaway. Greenvans has the right 15-passenger van rental in Providence to move your large group of travelers, together.
Greenvans moves from Boston to Providence
We moved our New England office to Providence in 2021 to make it easier for travelers living in Rhode Island to find a high quality passenger van rental experience. We believe the exceptional level of quality and service we provide in the passenger van rental market fits right in here in Providence and we're very happy to bring our passion for travel to Rhode Island.
We're also glad to offer Greenvans and our 15 passenger van rentals for travelers in Southern Mass or the South Shore of Boston. We know what a hassle it can be to fight through morning rush hour traffic (or really any traffic at any time these days!) to get to Logan Airport or into Boston to pick up your rental van from one of the many rental rental options in and around the city of Boston.
Our goal is to make the travel experience seamless and easy for all of our customers. That starts with the vehicle you're traveling in and the service that stands behind it.
---
All about our Ford Transit 15 passenger van rentals in Providence, RI
Greenvans offers one style of 15 passenger rental van in Providence. The Ford Transit Medium Roof 350 XLT 15 Passenger van is our choice. We believe this to be the best, most versatile, most economical, passenger van option we can offer to travelers. Greenvans doesn't rent buses, RVs, SUVs, Minivans, or cars.
We don't rent 12 passenger vans or 10 passenger vans in Providence. However, all of our 15 passenger vans can be reconfigured and converted to 11 passenger vans or 8 passenger vans, depending on what your passenger and cargo needs might be for your trip.
We do one thing and we do that one thing exceptionally well (in our opinion anyway!)
We're focused and specialized for the van rental market. We have honed our craft to know every last detail about our rental vans, and more importantly, about the specific needs of the type of large group of travelers that need to rent a van in Providence or Southern Massachusetts.
---
EcoBoost Turbo for more Power and Fuel Economy
Our brand new medium roof Ford transit rental vans are powered by the 3.5L EcoBoost Turbo V6 Engine. This is the most powerful and fuel efficient option with 310 HP and 400 ft-lbs of torque. We pay a little extra attention when we buy our vans and upgrade to that extra power and fuel economy.
The added power gained from the EcoBoost turbo in our Providence rental vans is especially relevant for touring bands towing a fully loaded trailer across the country for a month or more.
Most of the large rental companies only offer the basic 3.5L naturally aspirated engine which provides 275 HP and 262 ft-lbs of torque. This may not seem that important, but when you have a 20 foot long van fully loaded with cargo and passengers trying to get up to speed on the highway, the more powerful turbo option makes the driving experience much easier and more enjoyable.
Better fuel economy is a big advantage of the ecoboost turbo engines as well. The standard engine gets about 19mpg on the highway. Our vans will do a little better – if you set cruise control for 65mph, you'll see closer to 22 miles per gallon in our Ford Transit passenger vans with the Ecoboost turbo.
With gas as expensive as it is these days, this increase in fuel economy makes a big impact on your budget over the course of a long trip.
---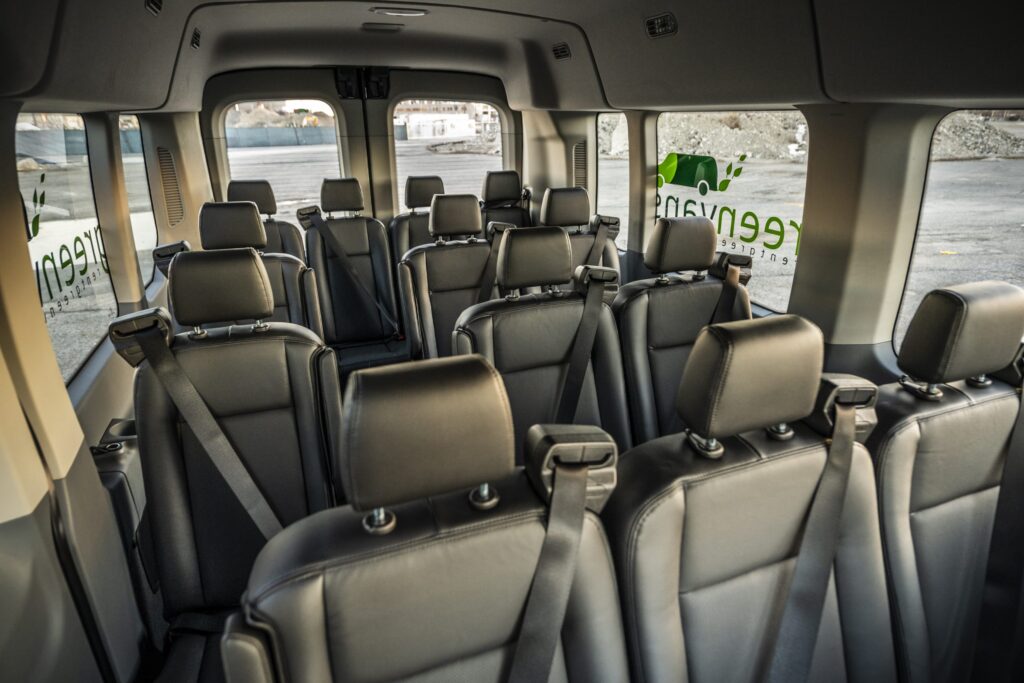 What is the height and length of your ford transit 15 passenger rental vans?

One of the most common and important questions we receive is this: what is the length and the height of a Ford Transit passenger van?
The roof height is extremely important: our vans are Ford medium roof transit 350 XLT 15 passenger vans with a roof height of 98.8 inches or 8.2 feet. We recommend a safe clearance of 9 feet.
You should never take our vans into parking garages or drive-throughs. Always be aware of your surroundings. When in doubt, stay out!
All of our rental vans are long wheelbase, medium roof transits.
Our Ford Transit rental vans have a wheelbase of 147.6 inches or 12.3 feet and a total length of 235.5 inches or 19.6 feet. This is especially relevant if you're booking a trip out to Martha's Vineyard, Nantucket, Block Island, Long Island, or any other destination that requires you to take your 15 passenger rental van on a ferry to an island destination.
Ferries typically charge an additional fee for vehicles over 17 feet in length. Please be sure to check with the ferry company to make sure our vans meet their requirements.
---
Passenger van rentals with a Tow Hitch in Providence
All of our vans also come with 2" factory tow hitch receivers.
We're one of the few van rental companies that allow you to tow a trailer with a 15 passenger van. If you're looking for a passenger van for rent near Attleboro with a tow hitch, Greenvans has the vehicle you need out of our new Providence location
What is the towing capacity of your 15 passenger transit rental vans?
All of our rental vans come standard with a factory installed class III tow hitch receiver with wiring for both 7-pin and flat-4 trailer wiring connectors.
We know how important towing a trailer is to many of our customers, especially touring bands. Greenvans buys our vans direct from Ford and we include high quality tow hitches and reliable wiring connections.
We charge an additional $12 per day towing fee to cover the additional wear and tear on the van – rear tires and rear brakes take a beating when you're towing a fully loaded trailer on a month-long full US tour.
The towing capacity of our transit van rentals is 4,500 lbs. This amounts to roughly the equivalent of a fully loaded Uhaul 6×12 enclosed cargo trailer.
We do allow you to tow a trailer of your own, but Greenvans does not rent trailers
Ford Transit Rental Van Safety Features
The medium roof transit rental van is a much larger vehicle than you're used to driving.
Almost 20 feet long, 9 feet tall, and almost 10,000 lbs fully loaded with passengers and cargo. It's an intimidating vehicle by the specs, but Ford has done a great job making this van as easy to drive as a large car. It's a comfortable ride with a ton of safety features to keep your family safe on the road.
These features come in handy since you're driving an unfamiliar vehicle on unfamiliar roads. We always give driving pointers on how to stay safe when we hand a passenger rental van off to you.
Ford has done an incredible job adding all the safety features you need. All of our rental vans come standard with the following safety features:
-Pre-Collision Assist with Emergency Braking (AEB)
Lane-Keeping System
Forward Collision Warning
Post-Collision Braking
Auto High-Beam Headlamps
Blind Spot Assist
Front, Side and Reverse Sensing Systems
Backup Camera
Apple Car Play and Android Auto with built-in voice commands.
Cross-Traffic Indicator warnings
We have your passenger van for rent near Attleboro, Fall River or New Bedford
You've searched for a 15 passenger for rent near Attleboro, Fall River, New Bedford, Taunton, or anywhere in Southern Mass. Despite many web searches and phone calls, you're probably coming up short. . All you're finding are the big rental car companies or websites that promise they'll find a 15-passenger or 12-passenger van rental van for you in Massachusetts or Rhode Island, but they always come up short.
You're finding it difficult to search inventory specifically for passenger van rentals and you're being met with "unavailable, please call" or a complete lack of options.
12 passenger rental vans and 15 passenger rental vans are very hard to find in Massachusetts and New England. These are highly specialized vehicles and the big rental car companies have a limited supply.
That's why it's better to work with a company that specializes in the exact vehicle that you're looking for. Just because a major car rental agency offers passenger van rentals on their website, doesn't mean they actually have passenger van rentals.
We're good at what we do because we do one thing and one thing only. We rent 15-passenger vans out of Rhode Island, Philadelphia, Richmond and New York. We have vans, we know vans, and we understand the very specific needs of people who need to rent vans.
We'd love to help you make your trip happen the way you need it to happen.
If you're looking for the right 15 passenger van rental in Providence or Southern Massachusetts, check out our van rental prices here.