It's a brand new site. We're proud of it, and we think it will make it easy for you to find the 15 passenger rental van you're looking for and the right company to support you.
---
Step 1 – Select the location you'd like to rent a passenger van from.
Greenvans has four primary van rental locations. Additionally, each of those locations includes a few standard delivery options. Read more here about how we handle passenger van delivery and pickup from off-site locations.
Select from one of four of our main passenger van rental locations
Providence, Rhode Island Van Rental
(Serving Providence, Cranston, Johnston, Rhode Island, Southern Mass, Boston, Eastern Connecticut, Greater Boston, and the greater New England area).

Main Office – 1911 Westminster St, Providence, RI.
Van delivery to Boston Logan International Airport
Van delivery to Boston South Station
Van delivery to Rt 128 Station Westwood, MA
Van delivery to Union Station Worcester, MA
Philadelphia, Pennsylvania Van Rental


Main Office – 1221 E 4th St, Eddystone, PA.
Van delivery to Philadelphia International Airport
Van delivery to 30th St Station, downtown Philadelphia
Richmond, Virginia Van Rental


Main Location – 7515 Mechanicsville Turnpike, Mechanicsville, VA 23111
Van delivery to Richmond International Airport
New York, New York Van Rental

While we don't have a physical location in NYC, all of our New York passenger van rentals are serviced by delivery out of our main office in Philadelphia. Click here for more info on New York City 15-passenger van rentals.

Main Location: 200 Morgan Ave, Brooklyn, NY.
Van delivery to JFK Airport
Van delivery to LGA Airport
Van delivery to EWR Airport (Newark New Jersey Van Rental)

Don't see the city you're looking for? Contact us to see if we can deliver a van to you. We generally deliver all over the country for long term rentals, tours, and productions.
---
Select your van rental pickup and return dates & times.
A few things to note about each of our passenger van rental locations:
We're open 9am to 6pm Monday – Friday and 9am – 12pm on Saturdays. Greenvans is closed for pickups on Sundays.

Ask us about van rentals starting outside of our normal hours.

If you're flying into Boston Logan International airport and you need to pick up your van rental outside of our normal delivery times, we can certainly make accommodations for remote pickups and returns outside of our standard hours. This of course applies to all of the airports we service by delivery.

We do all of our paperwork online in advance, so we can easily accommodate rentals with pickups outside of our normal hours when necessary.

You won't be able to make a reservation online within 48 hours of the start date of your van rental because our team does a lot of advance planning to accommodate your individual rental needs.
We're well organized when it comes to collecting all the information we need from you in advance so that we can make your rental experience easy, seamless and personalized.
We don't want to be caught off guard and let you down, so if you have a last minute need for a 15 passenger van rental in Providence or Philadelphia, please give us a call 833-640-8267
---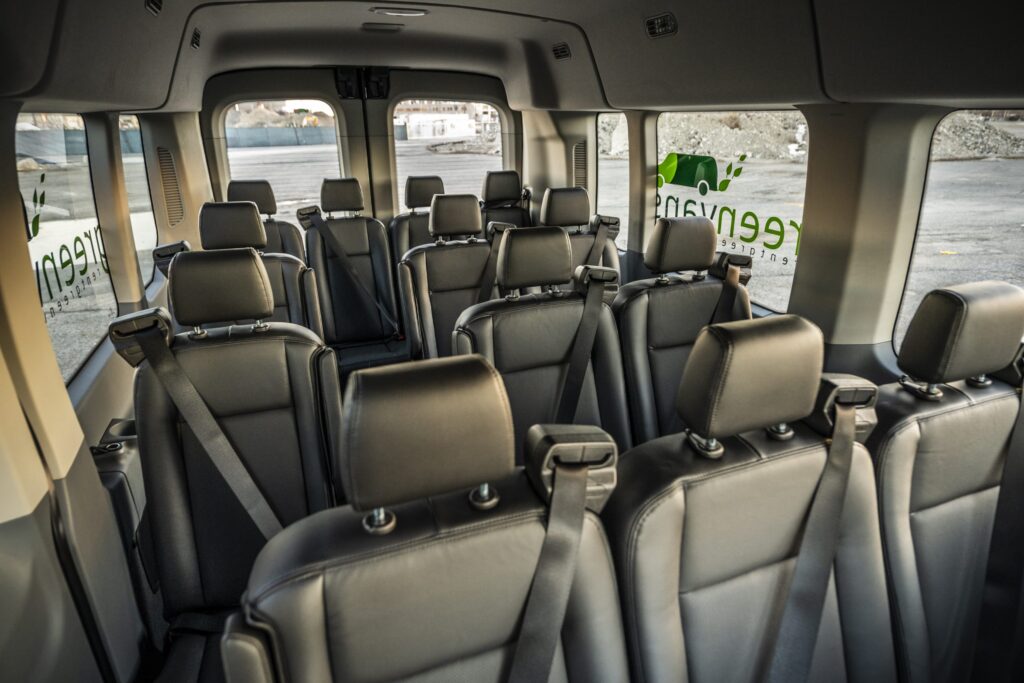 Step 2 – Select your van
This, we hope, is the easiest part of your whole passenger van rental experience with Greenvans. Since we only rent one size and style of van, we keep things simple for you. The 15 passenger Medium Roof 350 XLT Ford Transit Rental Van is the one and only vehicle in our fleet.

This is the best, most versatile, most reliable, most fuel efficient, and (of course the most important part): the best looking van available. That's our opinion anyway.

We also only rent one size van – that's the 15 passenger van. We don't carry 12 passenger vans (or Sprinter vans either for that matter.)

Step 3 – Extras
Here's where you can add a few extras to your van rental.

If you don't see some of the options listed below while you're making a reservation, give us a call at (833) 640-8267 or email us and we'll customize your rental options with you.

Insurance – Each driver must have their own personal auto policy with primary liability and collision coverage in order to drive one of our rental vans.

If you don't have your own policy, you can purchase full insurance coverage from Greenvans. This is only available for rentals out of our Philadelphia van rental location. We only offer renters collision protection out of our Providence, RI van rental location.

Towing a trailer? No problem. We rent 15 passenger vans with trailer hitches and we do allow you to tow a trailer.
Select this option if you'll be towing. We charge an additional $12/day towing fee to cover the additional wear and tear on the van. Please keep in mind that we do not provide draw bars and ball-mounts.

Underage Drivers: All drivers must be 25 and over to drive our vans, but we can allow drivers 21 – 24 under some circumstances. Contact us for approval and we can add the underage driver fee to your rental. No drivers under 21 are allowed. Sorry!

Custom delivery options: Don't see the location you're looking for, or do you need your rental van delivered to a specific location? Contact us to ask about custom delivery options.

Unlimited mileage: All of our rentals come with 300 free miles per day. So for example a 10 day rental will come with 3,000 free miles. If you exceed that mileage limit you'll be charged $0.39 for every mile over the limit. Please contact us if you'd like to see the price for unlimited mileage options.

Step 4: Tell us about yourself
We'll need to get some basic information about you here to create your 15 passenger van rental reservation. Enter the full name, email address, and phone number for the primary renter. That's all we need to get started.
When you reach step 4 of our web portal, you'll be asked for a lot of information. Don't panic! Sorry if this is overwhelming. We don't need to know all of this information to book your rental.
You can enter it later, and our location team will follow up about a week before your rental starts to make sure we have everything we need from you in advance.
Once you pay your deposit and lock in your van rental reservation, you'll receive a confirmation email with a link back to this step. You'll be able to update the information we need on this page as well as submit license and insurance information for all of your drivers.

Step 5. Confirm the information you have submitted is correct
Does everything look right? Great! Moving on….

Step 6. Make your deposit payment to secure your van rental reservation.
We require 30% of your total rental fee upfront to secure the reservation and the balance is due on the first day of your rental. The deposit confirms your reservation 100% and guarantees you a van. A reservation with us is not just a place in line – it's a commitment from us. Once your deposit is paid you know that we'll come through for you and you can certainly depend on us for the van you need, when & where you need it.
Once you make your reservation deposit, you're all set!

You'll receive a confirmation email and a confirmation text, each with instructions on next steps and a link to your reservation so that you may enter license and insurance info for all of your drivers. You'll also be able to select your seating setup, enter contact info for whoever will be picking up your van on day one, and flight info if you're coming in to one of the airport locations we serve.
The team from whichever location you reserved your van from will reach out at least a week before the start of your rental to check in and make sure we have everything we need from you and you have everything you need from us in order to make your rental experience easy and stress free.
---
Be sure to rent a 15-passenger van to make every mile of the journey something to remember.