15 Passenger van rentals near MetroWest Boston
Great news! If you're looking for a passenger van rental in the MetroWest area of Boston, Greenvans has easy options for you. We're now delivering our Ford Transit medium roof 15 passenger rental vans to Rt 128/University Park Station in Westwood from our New England rental office in Providence, RI.

Back in 2020 we moved our New England passenger van rental location down to Providence, Rhode Island. This was the right move for us for a variety of reasons. Mainly, Providence is rad and we have a crew of talented customer service wizards who live there and run our Rhode Island passenger van rental operation.

We still serve customers around Mass and those flying into Logan Airport looking for a 15 passenger van rental in Boston.

If you live in the MetroWest region of Mass, it can be a bit too far for you to travel down to Providence to pick up your passenger van rental in Rhode Island. And as the city gets busier and traffic gets worse, trekking into Boston and fighting rush hour traffic isn't a pleasant option either.
---
In an effort to bring our exceptional level of service to our customers throughout the Metrowest area of Mass, we're now offering Route 128 station in Westwood as a pickup location for your 15 passenger van rental near Framingham, Dedham, Westwood, Foxborough, and Stoughton.

Select this option when you're making your online reservation with us and we'll bring your passenger van rental up from our Providence location at your scheduled delivery time. You'll be able to return your van here as well.
How Our Delivery Service For Passenger Van Rental in New England Works

Our main New England van rental location is located at 20 N. San Souci Drive, Providence, Rhode Island. This is the easiest and least expensive location for you to start your rental. However, if you can't get to us, we'll deliver your van to one of our standard offsite delivery locations.

Here's how passenger van rental deliveries to offsite locations work:
1. Reserve your van and select Rt 128/University Park Station as your van rental pickup location. Check out our online reservation process here or give us a call at 833-640-8267


2. Once you pay your 30% reservation deposit, you'll receive a confirmation email with a link to upload license and insurance info for each of your drivers.

3. One of our team members will reach out to confirm that we have all of the info we need from you in order to set your van up correctly. We'll schedule a specific time for delivery and we'll send instructions on exactly where you'll meet our driver on the date and time of delivery.

4. Once all of your info is submitted, we'll send you a link to sign your rental agreement online.
We handle all of our van rental paperwork online in advance so you have the opportunity to ask questions and make changes BEFORE the day your rental begins.

When it's time to get your van, we do a quick walk-around of the vehicle with you to inspect for existing damage. We'll give you some pointers on how to safely drive a 15-passenger van, and send you on your way.
Super easy. Stress free. No surprises. Onward to adventures with your group.
---
So why rent a 15 passenger van from Greenvans?

…And why do you do "van deliveries" rather than having more van rental locations around New England anyway?
Glad you asked. Our purpose as an organization is to find creative ways to make your experience as a traveler better, easier, and less stressful. We do this so that you can focus on the things that matter to you and the adventures you're trying to experience with the group you're traveling with.
We like to think of ourselves as helpers, not gatekeepers. Allies, not adversaries. Everything we do is all about finding creative ways to help you have a better experience as a traveler.
Sometimes that means working a little harder on our end to make the first day of your trip easier. And of course, cost! Real estate is expensive, and we like to stay nimble to keep our costs down and our prices lower for you.
We have a great space and great people in Providence making Greenvans what it is. So rather than always making you come to us, we find creative ways to come to you, too.
---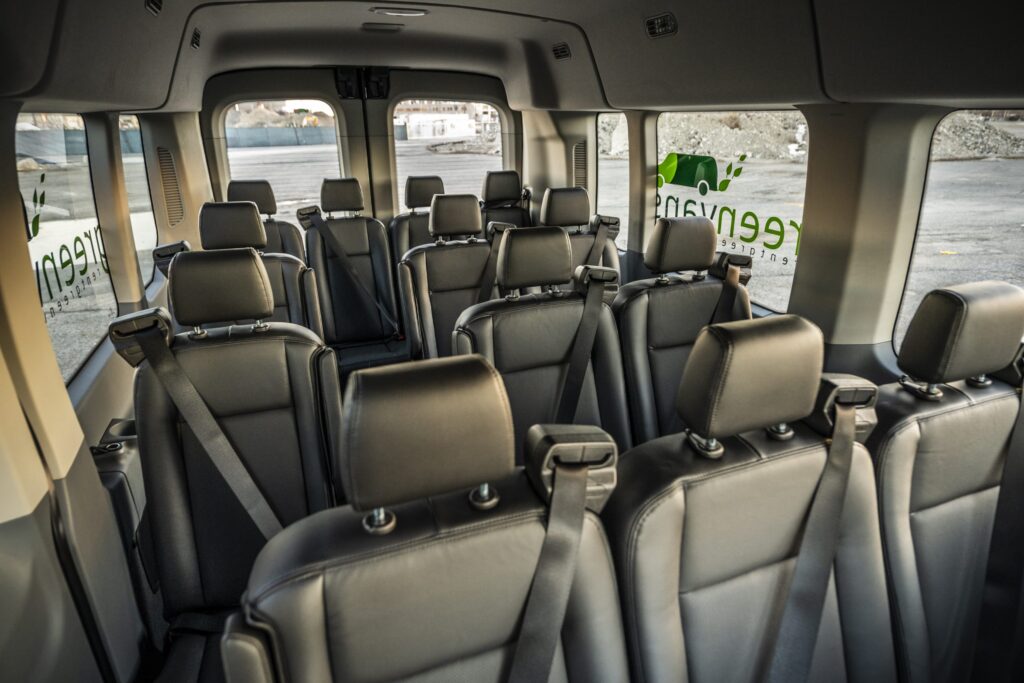 15 passenger van rental Rt 128/University Park station.
If you're looking to rent a 15 passenger van, we realize you have a ton of great options around Boston, MA and Providence, RI. Consider our newest passenger van rental pickup location at Rt 128/University Park station in Westwood, MA. We'd love to make your trip easier and more convenient by delivering one of our brand new awesome Ford Transit medium roof 15 passenger rental vans to the most convenient location for you.
If you have questions for us about why we're the best fit for you, please give us a call! We love to chat. We're all travelers and adventurers ourselves. We'd love to know more about your trip to see how Greenvans can help you with the right passenger van rental for you and your group on whatever awesome adventure you're about to embark on.
---
Ready to rent a 15-passenger van from Greenvans? Let's Go!