Greenvans has the passenger van rental you're looking for!
Are you looking for a Ford Transit Medium Roof 15 Passenger Van Rental in the New York City area? If you are, Greenvans has the passenger van you need!
We specialize in long term van rentals. Think touring bands and film production. We also provide great service to all kinds of leisure travel and corporate van rental needs.
We specialize in the entertainment industry. However, our commitment to exceptional customer service extends to all types of travelers. We only rent 15 passenger vans, so you might call us specialists. We do one thing and we do it very well: we rent high quality 15 passenger vans to travelers in search of remarkable experiences.
Read on to learn a little bit more about Greenvans 15 passenger van rentals in the New York City area and how we can help you with your travel plans.
15 Passenger Van Rental in Brooklyn and the NYC Airports
Greenvans does not have a physical office in the NYC area. However, we offer van delivery service from our home office in Philly.
Our standard Brooklyn delivery address is located at 200 Morgan Ave, Brooklyn, NY. Book a 15-passenger van rental from Greenvans in NYC online or by phone. Our team will arrange for delivery of the van at a set time on your rental start date.
We take care of all the paperwork online before your rental. This ensures that the delivery and handoff are speedy and effortless. On the scheduled date and time, a member of our team will meet you at the pickup location. Your van will be ready and you can start your journey!
We also service the main NYC airports by delivery. That includes passenger van rentals at JFK Airport, LGA Airport, and Newark Airport (EWR).
When you make a reservation through our website for a delivery to or a pickup from one of the NYC airports where we provide passenger van rental service, keep in mind that your van will be delivered to the airport from an offsite location.
Our team will either meet you curbside at your arrivals terminal if you're coming in during our normal business hours, or we'll make arrangements to park your van in the closest lot to your arrivals terminal and we'll remotely unlock your van for you once you arrive.
Contact us directly to learn more about our after hours and remote van pickup service.

NYC Passenger Van Rental Delivery Fees
All of our New York City passenger van rentals are being delivered to NYC from an offsite location. That means any NYC van rental from Greenvans will include our standard delivery and pickup fees in your total rate.
Keep in mind that the majority of our New York area customers are either touring bands or film production companies that require long term rentals of 30 days or more.
The delivery and pickup fees typically make shorter van rentals more expensive compared to what you might find locally. Long term van rentals for touring bands and film production, however, make a bit more financial sense which is why we offer delivery to Brooklyn and NYC airports for long term van rental customers.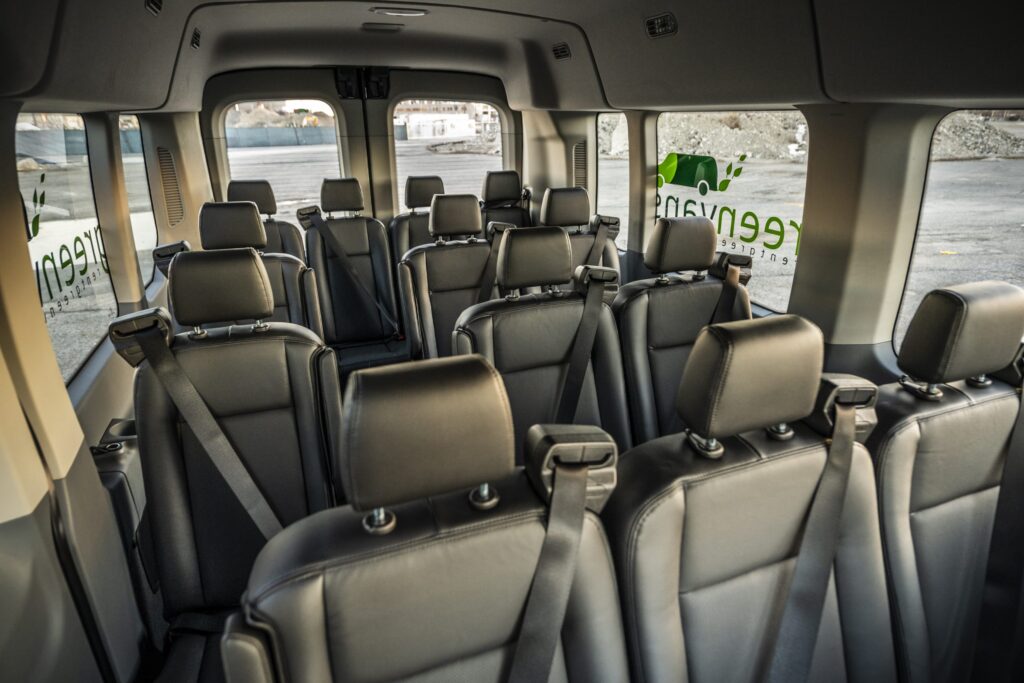 Interested in Renting a 15 Passenger Van From Greenvans in New York City?
If you think Greenvans is the right passenger van rental company for you in the NYC area, we would love to help!
All of our vans are brand new 2023 Ford Transit Medium Roof 15 Passenger XLT models. They are safe, well maintained, cleaned, and our team is happy and excited to make your passenger van rental work for you.
Contact us today to learn more about our delivery options so we can get the passenger van rental you need right to you in NYC.
Need a 15 passenger van with a trailer hitch? No problem! All of our Ford Transit 15 Passenger vans come standard with a class 3 factory tow hitch. We're one of a few rental companies nation wide that let you tow a trailer with a passenger van rental. Contact us for more information about trailer towing policies before you make your van rental reservation with Greenvans.