Road Trip of a Lifetime: Rhode Island to New Orleans for Mardi Gras
Are you ready for the ultimate road trip adventure? We're talking about a journey from the tiny state of Rhode Island all the way down to the Big Easy for the wildest party of the year: Mardi Gras. And we're doing it in style with a 15 seater van rental in Providence with all of your friends traveling together. Enjoy comfortable seating and plenty of luggage space for everybody.
Pack your bags and get ready to hit the road with your best friends for an experience of a lifetime!
New York City, Philadelphia, and Washington D.C.
As we hit the road, we'll pass through some of the country's most beautiful and historic parts. We'll make stops in
New York City and take in some of the truly most iconic landmarks and attractions, including the Statue of Liberty, Central Park, and the Empire State Building.
Philadelphia, where we'll visit Independence Hall, Liberty Bell, and the famous Reading Terminal Market
Washington, D.C., where we'll get to see the Lincoln Memorial, the Washington Monument, and the White House.
The South
As we make our way further south, we'll pass through the charming small towns and rolling hills of the South. We'll have the chance to:
Sample some of the best Southern cuisine, including grits, fried chicken, biscuits, and gravy.
Visit some of the famous southern plantations
Experience the southern hospitality
New Orleans
But the real highlight of the trip will be pulling up to New Orleans in our 15 seater van rental packed with our friends, ready for fun. New Orleans, the city known for its colorful architecture, lively music, and of course, the world-famous Mardi Gras celebration.
During Mardi Gras in New Orleans, there is an abundance of activities and events to participate in and enjoy. Some popular activities include:
Parade watching: Mardi Gras is famous for its colorful parades, featuring elaborate floats, marching bands, and costumed revelers. The most famous parades are the Krewe of Endymion, the Krewe of Bacchus, and the Krewe of Orpheus.

Street Parties: The streets of New Orleans come alive during Mardi Gras with lively street parties, where locals and visitors alike can enjoy live music, food, and drinks. Some popular street party locations include Bourbon Street and Frenchmen Street.

Masking: Wearing masks is a long-standing tradition during Mardi Gras, and many people create and wear their own unique masks. You can find masks for sale at shops throughout the city or make your own at one of the many mask-making workshops offered during the festival.

King Cake: A traditional sweet pastry, typically a ring-shaped cake, decorated with icing and purple, green and gold sugar. It is a staple food during the Mardi Gras season and is often shared among friends and family.
Costumes: Many people choose to dress up in costumes for Mardi Gras, whether it's a traditional Mardi Gras outfit or a more elaborate costume. The more colorful and creative, the better!

Second Line: Second Line is a traditional jazz parade that takes place during Mardi Gras and other celebrations. The "second line" refers to the people who follow the parade, dancing and twirling parasols or handkerchiefs.
These few examples are just a small selection of the many activities and events that take place during Mardi Gras in New Orleans. The city truly comes alive during this time and offers something for everyone to enjoy.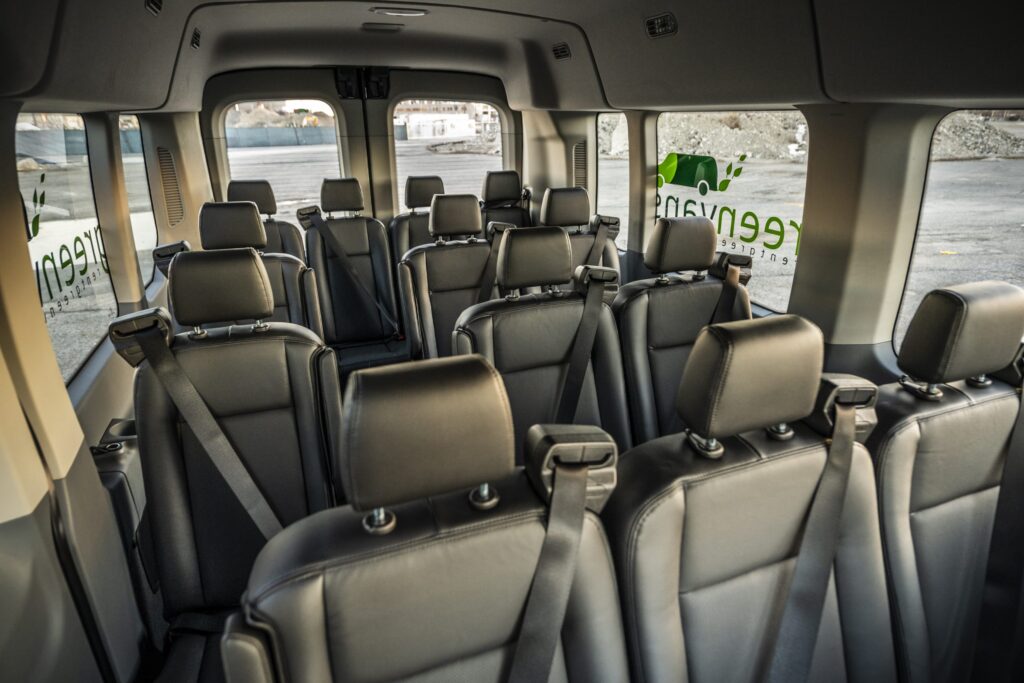 Why a 15 Seater Van Rental is Essential
A 15 passenger van rental is the perfect vehicle for a road trip like this. Not only does it provide plenty of room for passengers and luggage, but it also offers a number of unique benefits that make it the ideal choice for a large group of friends. Here are just a few of the reasons why a 15 seater van rental in Rhode Island from Greenvans is essential for this trip:
Comfort
With comfortable seating and plenty of legroom, everyone will be able to stretch out and relax during the long drive. 
Convenience
With a 15 passenger rental van, you'll be able to travel as a group, which means you can split the cost of gas and lodging. Plus, you'll have plenty of room for everyone's luggage.

A 15 seater van rental doesn't necessarily mean you need to have 15 people traveling in your group. If you have 10 or 11 passengers, Greenvans can remove the last row of seats before you come pick up your 15 passenger van rental in Providence. This will give you seating for 11 passengers (including the driver) and PLENTY of extra room for luggage. 
Flexibility
With a 15 passenger rental van, you'll be able to make spontaneous stops and detours along the way, allowing you to take in all of the sights and experiences that the road has to offer. On top of that, you know that air travel in the month of February can be tenuous.

Flights get canceled and delayed because of weather and issues beyond our control. If you're in a van traveling together, you have total control. You're not dependent on the airlines and their schedules. 
Safety
With a 15 passenger van, you'll be able to travel in a larger, more stable vehicle, which will give you peace of mind when you're on the road.
Bottom Line: Rent a 15 Passenger Van in Providence and Take Your Friends to Mardi Gras.
This road trip is going to be the adventure of a lifetime. From the historic landmarks of the North to the charming small towns of the South, and from the colorful architecture of New Orleans to the wild party atmosphere of Mardi Gras, there is sure to be something for everyone on this incredible journey.
Get ready to hit the road and experience all that this beautiful country has to offer!
Contact Greenvans today for all your 15 seater van rental needs in Providence and get your Mardis Gras Adventure started!
---